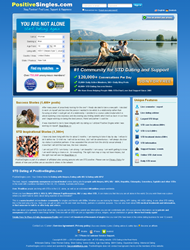 Los Angeles (PRWEB) December 21, 2013
The popular website for dating singles, PositiveSingles.com, was interested to find out who its female members think is the hottest male actor in the business. They posted a poll in November to find out. The poll asked the female members to choose who the top five most attractive actors were. They were given the choice of ten attractive actors and asked to choose their favorite five. The site waited a month, then tallied the results.
After checking all the results from the members who voted on the hottest actor poll, PositiveSingles finally have the totals. The female members who voted in the poll decided that the hottest male actor is Bradley Cooper, from "The Hangover," who received 19.63% of the votes. The male actor who came in third place was Robert Downey, Jr., from "Iron Man," with 16.35% of the votes. Leonardo DiCaprio, from "Titanic," came in third place with 14.26% of the votes. Ryan Gosling, known for "Crazy, Stupid, Love" and "Drive," came in fourth place with 13.39% of the votes. Chris Hemsworth, in "Thor" and "The Avengers," placed fifth with 10.93%.
Not surprisingly, Bradley Cooper won the contest for the hottest male actor. He is a well known as "that guy from 'The Hangover'." Cooper also delivered one of the finest dramatic performances ever in the movie, "Silver Linings Playbook." In that movie, he plays a man who faces many struggles. After he lost everything in his life, he finally raises up and overcomes his adversities. Women have a soft spot in their heart for him because they feel moved by that type of personality. They can't help but find themselves attracted to his spirit of persistence. That dogged determination, combined with rugged good looks, makes Bradley Cooper the sexiest actor in the minds of the female members of PositiveSingles.com.
PositiveSingles has tallied the results of their "Hottest Actor" survey and the results are in. Bradley Cooper is first in the minds of the female members as the hottest actor on the screen.