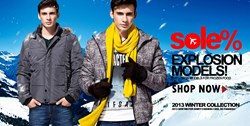 (PRWEB) December 21, 2013
Recently, Skmen.com, a trend setter and market leader in men's and women's clothes, has announced its new collection of men's peacoats. According to the CEO of the company, these products are specially made for this cold winter. Now, all of them are available at discounted prices, up to 34% off. Any consumer can enjoy the special offer before January 1, 2014.
The company is famous for its top quality clothes and excellent customer service. All visitors can talk to the online sales representatives if they have any related questions. The representatives are so kind that they will always patiently explain the problems in detail.
"We are glad to release our new peacoats for worldwide gentlemen. Thanks to the hard work of our experienced designer team, we are now able to bring more high quality products for customers. The special offer is launched to attract more clients from all over the world," the CEO of the company says.
"What's more, we are going to provide custom made products in the near future." He continues, "That is a piece of good news for those who want tailored clothes. At our website, we will always offer top quality items at the lowest possible prices."
About Skmen.com
Skmen.com, a China-based company founded in 2009, is one of the leading suppliers of men's and women's high quality clothes. It has more than 5000 customers from every part of the world, helping the people develop self-esteem, confidence and love of learning. For more detailed information about Skmen.com and its various kinds of clothes, readers can visit http://www.Skmen.com/product-men-s-outerwear-jackets-009003.aspx.