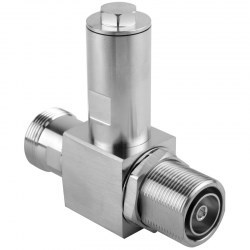 (PRWEB) December 21, 2013
RFcnn.com, a famous company offering many kinds of surge arresters, has recently released its new selection of quarter wave surge arresters. According to the CEO of the company, these high end arresters are especially made to meet the great demand and available in several specifications.
Aside from that, the company has also launched a special offer on the newest quarter wave surge arresters. All consumers can get their ideal products at greatly discounted prices, up to 32% off.
The company insists on deploying strict quality regulations to ensure that each of its products is of high quality. Hence, it is known as a leading brand in this field. As one of the pioneers, the company offers a wide variety of practical products that can be widely used in many industries, including arresters, baluns and connectors. A lot of them are very popular in the international market.
"We are excited to announce our new surge arresters. All these new items are made from good materials. Now, we are launching a special offer for customers from all over the world. Those who are in need of high end products should visit our website as soon as possible," the CEO says.
About RFcnn.com
RFcnn.com is an online shop of high end devices. It is a China based company that aims to provide customers with high quality products at the lowest possible prices. Customers can try the company's products through sample orders with a long-term contract. Most customers come back soon after receiving their first deals.
More details about the company's useful products can be found at http://www.rfcnn.com/Surge-Arrestor-Quarterwave-For-Microwave-DIN-female-to-female-bulkhead-40.html.