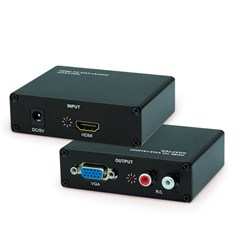 (PRWEB) December 21, 2013
As a leading brand of electronic devices, Hiconn Electronics puts much attention to product quality. Recently, the company has announced its new collection of HDMI to VGA with Audio converters, and launched a special offer on these top quality converters.
"We are glad to introduce our new products for customers throughout the world. We have been working in the industry for several years; our products are sold well in the global market and well appreciated by their purchasers. Hence, I believe these fresh HDMI to VGA with Audio converters will hit the market," the CEO of the company states.
Some detailed information about the company's HDMI to VGA with Audio converters is as follows:
1) Support HDMI output: 1080P/1.3V
2) No need for any software, plug and play
3) All the hardware conversion processing, with images of high definition, good brightness, high image quality
4) Support HDMI1.3 version (compatible with 1.0/1.1/1.2), automatic detection HDCP
5) Small, mobile and strong
6) One HDMI input signal convert to one YPbPr+SPDIF+R/L or VGA+SPDIF sink device
7) Support video input : HDMI 1.2a
8) Support audio output : SPDIF(Optical)+ R/L analog .
9) Support output: Support up to UXGA and 1080P (50/60Hz), the same format as input
10) HDCP 1.2 protocol compliant
11) LED indication : when source or sink is working, LED relative to is light.
12) No loss of quality
13) Installs in minutes
14) Need DC5V/0.8A power supply
Now, it is very convenient to place an order at the company's online shop. The top experts of the company will also share their opinion, advice and knowledge on the Internet.
About Hiconn Electronics
Hiconn Electronics (Shenzhen Hiconn Electronics Co. Ltd.) is devoted to designing and manufacturing a wide range of connection cables and customized cable assemblies, offering many HDMI cables, VGA cables, SATA cables, USB cables, 1394 cables, DVI cables, SCSI (Small Computer System Interface) and more. For more information, please visit http://www.hiconn.net/.
Contact Person: James Yin (Sales Director)
Company Name: Shenzhen Hiconn Electronics Co., Ltd.
Address: Shenghua Building., Xixiang Road., Baoan District, Shenzhen, Guangdong Province, China
Zip Code: 518102
Tel: +86-755-8109 8345
Fax:+86-755-2779 3497