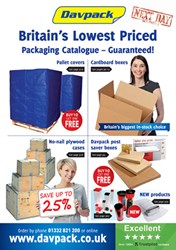 (PRWEB UK) 23 December 2013
While many companies slow down in the last few days before the holiday shutdown, Davpack is busy putting the finishing touches to its new packaging catalogue, packed with around 4000 products, most of which are kept in stock and available for next working day delivery.
The range includes probably the biggest in-stock selection of cardboard boxes, with over 200 double wall and over 240 single wall boxes available for immediate dispatch.
Davpack's new catalogue, which will be sent out to customers early in the new year, has been completely updated, with all postal boxes now reclassified to reflect the changes the Royal Mail made to their parcel pricing structure at the end of October. That change meant an extra 78 products in Davpack's postal packaging range now fall into the 'small parcel' band as opposed to medium.
Companies and business owners who want to ensure they are in a position to take advantage of the best value packaging, dispatched and delivered with consistently rated 5-star service, should call 01332 821200 and ask to be added to the mailing list.
Alternatively, orders can still be placed online throughout the Christmas period. Orders received after the company shuts down for Christmas will be dispatched on Thursday 2 January 2014.