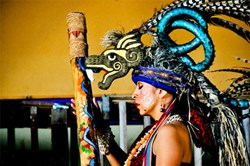 "This new, extensive exhibition will greatly assist the Maya of Belize in finally getting their due as the cradle of one of the greatest civilisations the ancient world knew."
(PRWEB) December 22, 2013
The Lodge at Chaa Creek's Belize Natural History Centre's manager reports that the Maya of Belize are now finally receiving their proper place in history, thanks in part to a major exposition of Maya artefacts currently on display in the USA.
Maya: Hidden Worlds Revealed at the Science Museum of Minnesota in St Paul is being promoted by its curators as the largest collection of Belizean artefacts ever shown in one location and is already drawing crowds and rave reviews, with some 3,000 visitors sharing the experience on some days, according to Brion Young, the Belizean eco resort's nature reserve and Belize Natural History Centre] manager.
"Belize has always been known to Mayanists, archaeologists and other specialists as the heartland of the Maya, but to the general public, Guatemala and Mexico are usually more associated with this ancient civilisation. This perception has been changing, slowly but surely, and this new, extensive exhibition will greatly assist the Maya of Belize in finally getting their due as the cradle of one of the greatest civilisations the ancient world knew," Mr Young said.
Under an arrangement with Belize's National Institute of Culture and History (NICH), some 200 of the 300 artefacts on display come from Belize, and some have been excavated less than a year ago. Curator Dr Ed Fleming considers it a major coup both for the Minnesota museum and Belize.
The ambitious display is also the largest exhibition ever staged by the Science Museum of Minnesota, Dr Fleming said.
The exhibition has its genesis in Dr Fleming's participation in an archaeological field school in Belize in the mid-1990s. Dr Fleming is now the Science Museum of Minnesota's curator of archaeology, and called upon his former mentor, Belize's Dr Jaime Awe to help insure the exhibition's integrity.
"Dr Awe is perhaps the world's most well regarded Mayanist. He is also Director of Belize's Institute of Archaeology and a prolific writer and teacher when he's not engaged in Indiana Jones adventures such as exploring ceremonial Maya sites caves and newly discovered archaeological sites, so we can be assured of the authenticity of this new exhibition," Mr Young said.
In addition to overseeing the loaning of important artefacts to the museum for the next few years, Dr Awe is working with Dr Fleming's team to ensure that the exhibition works as an experience that draws visitors into realities of the ancient Maya civilisation, from the viewpoints of the spiritually inclined ruling elite to common villagers.
It will also draw attention to the fact that Belize, a small Caribbean nation with some 12% of its population of under 340,000 people as Maya, was the cradle of the rich ancient Maya civilisation. Dr Fleming agrees with Mr Young and Belize Natural History Centre that Belize's role in that regard has been downplayed, and he hopes the Maya: Hidden Worlds Revealed will rectify that lack of perception.
"We now know that Belize is really in the heartland, in the centre, of the Maya world," Dr Fleming said.
And now many more people will too, Mr Young added.
"The exhibition is expected to travel to Denver, San Diego and finally to Boston, so hundreds of thousands, perhaps millions of people will get a taste of ancient Belizean Maya life in what will be the largest exhibition ever staged by the Science Museum of Minnesota," Mr Young said.
Mr Young said he hopes that the exhibition will spur more people to come to Belize to have a taste of Maya village life though the homestay programs in Maya villages today, where day-to-day life and many customs remain largely unchanged, from farming techniques down to making tortillas and drinking hot chocolate, another Maya invention, for breakfast.
"And, of course Chaa Creek's 365 acre private nature reserve is filled with some 70 Maya sites, as well as the Maya Medicinal Plant trail, Maya Organic Farm, the Belize Natural History Centre and the eco resort offers all-inclusive Maya vacation packages," Mr Young explained.
"While the Maya: Hidden Worlds Revealed exhibition won't have the same effect of actually walking around Belize's ancient Maya archaeological sites such as the massive ancient metropolis of Caracol or the artefact-rich Actun Tunichil Muknal cave, it is, as they say, the next best thing to being there," he said.
The Lodge at Chaa Creek is an award winning eco resort set within a 365 acre private nature reserve in Belize.
ENDS