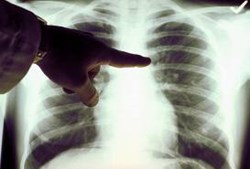 New research has shown that while Lung cancer in men is declining, the incidence among women is rising.
Bolton, UK (PRWEB UK) 23 December 2013
As reported by the BBC, new research has shown that while Lung cancer in men is declining, the incidence among women is rising (1). With lung cancer accounting for over a fifth of all deaths caused by cancer (2), Asons Solicitors believe it is crucial that such discrepancies are addressed.
The bias is believed to follow trends in smoking patterns, accounting for the gender differences (1). Statistics show that the number of men smoking has declined over the past two decades, whereas the number of female smokers is rising.
Speaking on the research, Nick Ormiston-Smith, Cancer Research UK's head of statistics, said (1):
"It's great news that lung cancer in men has fallen by more than a third since the early 1990s."
"Trends in lung cancer incidence rates reflect past trends in cigarette smoking - many men quit smoking from the 1950s onwards, so we are now seeing the positive impact of that."
"Unfortunately this smoking fall didn't occur for women until later - after they had become the core targets of the tobacco industry's marketing strategy, so their lung cancer rates are still increasing."
The data highlights how survival rates for lung cancer have improved "significantly" since 1990, with twice as many patients surviving past twelve months by 2011 (1). According to the BBC, it is believed that the rise in survival rates can be attributed to improvements in treatments, and earlier diagnoses.
Considering the research, Asons Executive, Suzanne Yates, said-
"This statistics should serve as a warning to those who smoke, and I very much hope they are taken on board."
"While lung cancer survival rates have clearly improved, the disease still accounts for 20% of all Cancer deaths – and that is a statistic that should be taken seriously. Smoking is believed to be the biggest avoidable risk factor for lung cancer. For those who smoke, giving up is considered to be the greatest safeguard against the disease.
"At Asons Solicitors, we often see medical claims being made for cancer misdiagnosis compensation, where the symptoms of lung cancer have been mistaken for the effects of heavy smoking, delaying their diagnosis until their cancer has become too progressive to be treated effectively."
"Despite these improvements, the fact still remains that the majority of lung cancer patients are still dying within a year of their diagnosis. While improvements are making inroads into improving cancer survival rate, some degree of personal responsibility is crucial, and the public need to take notice of publicised risk factors."
In the event that someone has been subject to cancer misdiagnosis, they must seek legal advice as quickly as possible. Taking action can prevent the same situation from reoccurring, helping others to avoid injury in future.
Those who have suffered may be able to make a clinical negligence claim for misdiagnosis compensation. Asons Solicitors deal with claims for NHS compensation on a regular basis, they can be contacted on: 0844 850 1062 or via their claim form at asons.co.uk.
-Sources-
(1) BBC News, 'Lung cancer one-year survival rate 'improving', (19/12/2013) bbc.co.uk/news/health-25430669
(2) Cancer Research UK, 'Cancer mortality for common cancers' cancerresearchuk.org/cancer-info/cancerstats/mortality/cancerdeaths/
-ENDS-
About Asons Solicitors:
Asons Solicitors is a Bolton-based law practice that specialises in personal injury and industrial disease claims. Founded by brothers Imran Akram and Kamran Akram, Asons Solicitors has developed to become a young and dynamic law firm that delivers practical solutions to clients in times of difficulty. Their continued focus on their staff has seen them awarded with the Investors in People "Gold Award"; which is reflected in the professional and personable approach they take in working with clients. They strive to grow and to develop, and their supportiveness and attention to detail ensures that their clients use them time and again.
For further information contact:
Email: info(at)asons(dot)co(dot)uk
Website: http://www.asons.co.uk