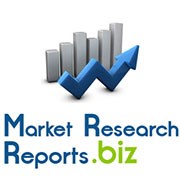 Consumer Electronics Market
Albany, NY (PRWEB) December 26, 2013
Primarily supported by application sectors:- Analog & Digital TV, Tablet, Digital Cameras & Camcorder, Personal Computers and Video/Audio Equipment -- the Consumer Electronics market to witness a value of US$1.6 trillion by 2018. Geographical analysis shows the highest Compounded Annual Growth Rate (CAGR) of 17.6% is foreseen from Asia-Pacific region during the analysis period 2011-2018. The Middle East is not way behind with a CAGR of 17%, followed by Africa at 16.9%. Japan forecasts to drive with a growth rate of 13.9%. Among the sectors, Analog & Digital TV accounts for nearly 32.3% of the overall market share followed by Personal Computers at 25.5% holding the second position. Global market for Consumer Electronics especially in Tablet will record strong hold over the next 5 years driven by raising demand in fast-growth market in Asian and other emerging countries. Major companies are located in Japan, South Korea and Taiwan region and are dominating the Consumer Electronics Industry Growth.
To Read the complete report with TOC visit: http://www.marketresearchreports.biz/analysis-details/consumer-electronics-global-trends-estimates-and-forecasts-2011-2018
Report Focus:
The report 'Consumer Electronics - Global Trends, Estimates and Forecasts, 2011-2018' reviews the latest consumer electronics market trends with a perceptive attempt to disclose the near-future growth prospects. An in-depth analysis on a geographic basis provides strategic business intelligence for electronics sector investments. The study reveals profitable investment strategies for electronics companies, business executives, product marketing managers, new business investors and many more in preferred locations. The report primarily focuses on:
Emerging Market Trends
Advancements in the Technological Space
Market Demand of The Segments (By-Region)
Key Growth Areas and Market Size
Region-Wise Demand Factor
Estimates are based on online surveys using customized questionnaires by our research team. Besides information from government databases, company websites, press releases & published research reports are also used for estimates.
Click Here To Download Detail Report: http://www.marketresearchreports.biz/sample/sample/179697
The analysis primarily deals with applications. Further, the subdivided categories include:
Consumer Electronics - By Application
Analog & Digital TV
Personal Computers
Video/Audio Equipment
Digital Cameras & Camcorders
The period considered for the consumer electronics market analysis is 2011-2018. The region wise distribution of the market consists of North America (USA, Canada and Mexico), Asia-Pacific ((Ex-Japan) (China, South Korea, India, Taiwan, Australia, New Zealand, Malaysia and Rest of Asia-Pacific)), Europe (Germany, France, Russia, United Kingdom, Spain, Italy, The Netherlands, Hungary, Poland, Switzerland, Belgium, Norway, Sweden and Rest of Europe), Japan, Latin America (Brazil, Argentina, Columbia, Venezuela, Peru and Rest of Latin America), Africa (South Africa, Egypt, Kenya, Nigeria and Rest of Africa) and Middle East (Turkey, United Arabs Emirates, Saudi Arabia, Israel, Iran and Rest of Middle). The market growth rate in the major economies such as the U.S., Japan, China etc. are estimated individually.
TABLE OF CONTENTS
I. REPORT FOCUS
A. ELECTRONICS
DEFINITION
ELECTRONIC COMPONENTS – DEFINITION
EARLY ELECTRONIC COMPONENTS
TYPES OF CIRCUITS
ELECTRONIC COMPONENTS AND THEIR CLASSIFICATION
A. TERMINAL
B. CONNECTOR
C. CABLE ASSEMBLY
D. SWITCH
About Us
MarketResearchReports.Biz is the most comprehensive collection of market research reports. MarketResearchReports.Biz services are specially designed to save time and money for our clients. We are a one stop solution for all your research needs, our main offerings are syndicated research reports, custom research, subscription access and consulting services. We serve all sizes and types of companies spanning across various industries.
Contact
M/s Sheela
90 Sate Street, Suite 700
Albany, NY 12207
Tel: +1-518-618-1030
USA – Canada Toll Free: 866-997-4948
Website: http://www.marketresearchreports.biz/
Blog: http://marketresearchreportsbiz.blogspot.com/