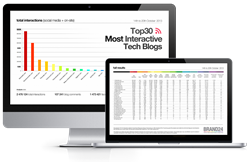 Mashable.com is the most interactive tech blog with over 852K social media & onsite interactions.
(PRWEB) December 23, 2013
Brand24 examined over 2.4 million social media interactions to determine most interactive Tech blogs on the web. For purpose of this report, 14 categories were created to measure interactivity. Initial blog list according to Technorati.com Tech Blogs category (from 20th October 2013).
Brand24 analysed 5128 blog posts created from 14th until 20th October 2013. They were commented (on-site) 107 241 times. On average, users created 21 comments per article. At the same time people shared those articles with their friends/followers/subscribers from Facebook and Twitter- 415 266 and 895 462 times respectively.
The blogs that appear most frequently in the top 5 for the mentioned categories are: Theverge.com (13 times), Gizmodo.com (12), Mashable.com (12) and Businessinsider.com (11).
In the analyzed period Mashable.com generated the highest number of interactions (more than blogs number 2 and 3 combined). Businessinsider.com was the most engaging blog on Facebook, where it generated nearly 120k FB comments. It would be more than all other chosen blogs altogether, if it wasn't for Mashable.com, which generated more than 95k comments.
The Verge and Gizmodo lead the way in terms of number of regular/onsite comments with well over 20 000 total comments each.
BusinessInsider.com was the most active blog, generating almost as many posts as blogs number 2-5 combined.
Macrumors.com was the most onsite-engaging blog with an average of 149 comments per article .
Mashable and BusinessInsider generated the majority of Facebook Likes during our analysis. Both generated about 250k fb likes. It is especially impressive for Mashable which generated more Facebok likes than BusinessInsider while generating 3 times fewer posts.
When it comes to Facebook shares, Mashable.com is the victorious blog with nearly 150k shares. Mashable.com owes its victory in this category to its high number of average Facebook Shares per article (407 comments per post).
Twitter users mostly shared articles from Mashable.com and Gizmodo.com, which generated altogether over 450k shares. In comparison, all other blogs combined generated around 440k shares.
Download our free PDF report to view the full results for our Tech Blogs interactivity analysis.