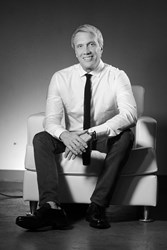 Christmas is the greatest time of the year, and Klyde Warren Park is one of Dallas' greatest venues!
Dallas, TX (PRWEB) December 20, 2013
Ed Young, who was recently featured in FD Luxe, will be hosting a community-wide Christmas celebration at Dallas' Klyde Warren Park.
Fellowship Church has announced its Christmas events planned for this year. In addition to experiences spanning the weekend before Christmas and on Christmas Eve, an additional event has been added to the calendar.
This year, Ed Young and his wife Lisa will host a community event called "Christmas in the Park" at Klyde Warren Park. The park hosts a steady stream of visitors daily and its website labels it "an urban green space that provides daily free programming for the public."
"Christmas is the greatest time of the year, and Klyde Warren Park is one of Dallas' greatest venues! We are excited to be hosting this event at such a top level location, and we look forward to celebrating Christmas with the entire community!" Pastor Young says.
In addition to this December 20th event at Klyde Warren Park, Ed Young will host Christmas celebrations at each Fellowship Church location. This year's message "Presents" is designed to help people in all walks of life understand the greatest gift any of us has ever received.
Young says about this Christmas message, "Christmas is the time of year when we are all looking for something; we want the perfect gift. This Christmas at Fellowship Church, our goal is to connect everyone to the truth that God has an amazing plan for them, and that we've already been given the ultimate gift!"
Christmas in the Park and all Christmas experiences at Fellowship Church are free and open to the public. For a listing of all Fellowship Church's locations and Christmas experience times, as well as normal weekend experience times, visit the church's website at FellowshipChurch.com.
For interview requests, please contact Andy Boyd (contact information below).
ABOUT:
Ed Young is the founding pastor of Fellowship Church, one of the most attended churches in North America. He is an author and speaker noted for communicating biblical truth in creative and memorable ways. He has a passion for making the complex, simple as he speaks truth to people in ways they can understand and apply to their everyday lives. He has written 14 other books, including The New York Times best-seller Sexperiment.
To learn more about Ed Young and his ministries, visit EdYoung.com.
PRESS CONTACTS:
Contact: Andy Boyd
Company: Fellowship Church
Phone: 972-471-6601 (desk)
Phone: 469-544-8083 (mobile)
Email: andy.boyd(at)fellowshipchurch(dot)com
Contact: Casey McCann
Company: Fellowship Church
Phone: 972-471-6609
Email: casey.mccann(at)fellowshipchurch(dot)com