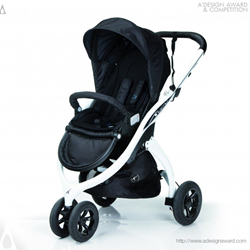 Como, Italy (PRWEB) December 21, 2013
A' Design Award and Competitions are proud to announce that the project Casualplay Kudu by Casualplay Design Dept has been acknowledged with the notable Silver A' Design Award in Baby, Kids' and Children's Products Design Category.
Concerning Casualplay Kudu
Casualplay Kudu presents irregular shapes and geometry in structure made of high strength deep drawn plate aluminum. This technology is innovative as all the other products on market are manufactured using aluminum extrusion. The main advantage lies in the simple lines, different geometry and the number of sub-assemblies, parts and joints of the pushchair that are kept to a minimum. Therefore, Kudu is very easy to recycle as the chassis only has 3 parts: handle, front and rear assembly.
To learn more, please visit: http://www.adesignaward.com/design.php?ID=27713.
Project Members for Casualplay Kudu
Casualplay Kudu was imagined by Design Engineers Antonio Caballero, Toni Parera, David Palau and Pedro Cabral , Aluminum Manufacturer Jerry Teng, Fiber Carbon Manufacturer Antonio Bayarri , Restyling Josep Muñoz, Textile Designers María Gasull and Marta Gómez, Graphic Designers Susana Dicenta and Mariona Arimany, Rendering Alejandro Carrillo, Video Lluís Dantí, Prototyping Pedro Buenavida and Marc A and Company Management Quim Jané
The Silver A' Design Award
The Silver A' Design Award is a prestigious award given to top 5% percentile designs that has delivered an exemplary level of perfection in design. The designs are judged by a panel of three different jury which is composed of Academic, Professional and Focus Group Members. The designs are evaluated with score normalization to remove any biases and are voted on aspects such as functionality, ergonomics, engineering, presentation, innovation, usability, fun details, technology, and any other specific points that could be considered, each of these points are further weighted for different jury groups.
About A' Design Award and Competitions
A' Design Award and Competitions, aims to highlight the excellent qualifications of best designs, design concepts and design oriented products. A' Design Award and Competitions are organized and awarded annually and internationally in multiple categories to reach a wide, design-oriented audience. To learn more, visit: http://www.whatisadesignaward.com.