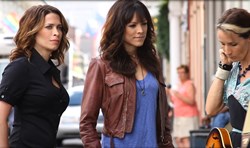 I am thrilled to get to work with Liz Vassey and Christina Cox to bring these characters back to life. -Nancylee Myatt
Chicago, IL (PRWEB) December 21, 2013
Liz Vassey (All My Children, CSI) and Christina Cox (Elysium, Dexter) reprise their roles in as heavily fan-fictioned "Nikki and Nora" exclusively on tellofilms.com this Sunday at 11am PST. "Nikki & Nora" was shelved by the big 3 broadcast television channels 10 years ago, much to the dismay of their dedicated fanbase, who has watched the unaired pilot over and over on YouTube. Their lovestory continued in the form of fan fiction, and earlier this year creator Nancylee Myatt (South of Nowhere), with the help of distributor tellofilms.com, raised over $65,000 in a crowdfunding campaign. The crowd's message was loud and clear: "We want Nikki and Nora back!"
"I am thrilled to get to work with Liz and Christina to continue the story of "Nikki & Nora," says creator Nancylee Myatt. "We also got to shoot in a place that close to my heart, New Orleans."
"Nikki & Nora" follows the lives of police officers and lovers Nikki and Nora. In episode 1, "Music, Mayhem and Mothers" Nikki and Nora enter the underbelly of the New Orleans music scene when they're hired to work on a case that puts them in the spotlight and the headlights: the possible murder of an up-and-coming musician. Meanwhile, at home, Nikki and Nora tackle the rising tide of core family issues in the midst of the renovation of their home. You can connect with "Nikki & Nora" across our social media platforms here: Twitter, Facebook, YouTube, and Instagram.
The series also stars Jim Beaver (Supernatural, Breaking Bad), Oscar and Golden Globe-nominated actress Tess Harper (Tender Mercies, No Country for Old Men), Janina Gavankar (True Blood, The L Word), Armin Shimerman (Deep Space Nine, Buffy the Vampire Slayer), Kitty Swink (Deep Space Nine, Law and Order), Aasha Davis (South of Nowhere, Friday Night Lights), and Larry Poindexter (CSI, Californication).
New episodes of "Nikki & Nora" are being released every Sunday starting on December 22nd, 2013, exclusively on lesbian webseries hub tellofilms.com. tello makes and distributes webseries for, by and about lesbians. Learn more about tello and get your subscription here.