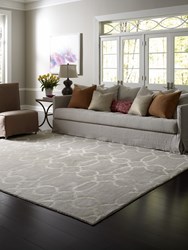 The soul of the apartment is the carpet.
New York, New York (PRWEB) December 23, 2013
When a couple begins outfitting their new nest, often times the first considerations are flooring options and area rugs before selecting furniture. Selecting a hand-made rug over a commercial, machine-made rug, will be like adding a new piece of artwork in a home. Kalaty Rug Corporation offers tips when decorating with hand-knotted rugs.
Edgar Allen Poe once wrote, "the soul of the apartment is the carpet." Poe meant that the carpet or floor furnishings are the foundation of the home décor, and the home's style should flow from it. When homeowners choose rugs, they establish how the room will be laid out and the feeling they will get from the room.
If chosen correctly, area rugs can serve as a foundation and focal point for a home and last for generations. Decorating with area rugs allows the homeowner to make a bold statement and add cultural richness to the home.
A new hand-made rug should complement the other home furnishings. Examine the rug to discover the dominant colors in the pattern. By extracting a single color from a rug, homeowners can utilize the complimentary colors throughout the room. A rug's unique pattern should also be considered when selecting furniture styles and wall coverings.
The wall color of the room should match one of the accent colors of the rug. Typically the wall color should match the white or cream pile within the rug to allow for the rug to be the focal point. For example, if selecting a red area rug with cream color pile accents, the wall colors of the room should be cream-colored to create a harmonious background for the rug. While an accent wall will work with an area rug, homeowners should shy away from trying to match the prominent color of the rug because that will draw the attention away from the rug.
Homeowners should also consider their framed artwork and window treatments when selecting a handmade area rug. Depending on the colors in the rug, both the frame and the artwork should complement the hues present in the rug.
About Kalaty Rug Corporation
Kalaty Rug Corporation is a family business that has been setting the gold standard for area rugs for generations. Highly respected for its superior quality handcrafted rugs, the company has built a reputation for its ability to combine color and design to create a broad range of area rugs that portray "Tradition for Today." Kalaty operates showrooms in Long Island, Atlanta and High Point. Visit http://www.kalaty.com to find a local dealer of Kalaty rugs.