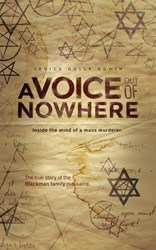 Nothing much changes about psychotic crime over time except the clothes and the weapons.
Charlotte, North Carolina (PRWEB) December 31, 2013
Not all the mass murders in 2013 made national headlines, but they're a grim reminder that violent crime committed by the untreated, severely mentally ill is a threat that will continue to haunt us in 2014, claims Janice Holly Booth, author of the #1 Amazon bestseller, "A Voice out of Nowhere: Inside the mind of a mass murderer." "The Navy Yard, the incident on Capitol Hill and the shootings at LAX garnered media attention," says Booth, "but who has heard of or remembers the horrific mass murder in Brooklyn, or the shooting in Santa Monica, or the bizarre killings in Phoenix this year?" Mental illness is suspected to be the driving force behind those rampages.
"A Voice out of Nowhere," which is Amazon's #1 bestseller in schizophrenia, chronicles the true story of a 22-year-old man with no prior history of violence who suddenly and savagely murdered his family in the early hours of a January morning 30 years ago. "Even though the story is three decades old," says Booth, "it could easily have been plucked out of today's headlines or tomorrow's. Nothing much changes about psychotic crime over time except the clothes and the weapons." The killer murdered his family because voices commanded him to do so. The prior six weeks he'd been tormented by visions and hallucinations of the world blowing up. "The killer believed he was Jesus Christ, God and the Antichrist," says Booth, "and that God had chosen his family to save the world. Therefore, they had to be sacrificed. As hard as it is to believe, he killed them out of love."
The difficulty in predicting whether a person with schizophrenia will become violent cannot be underestimated, says Booth, but there are usually warning signs that come long before the crime is committed. "We need to be ready to act on these and intervene immediately," she says. "When a person with mental illness commits violence, they destroy not just the lives of the victims, but their own life as well. Most of these tragedies could be prevented if early effective intervention could happen quickly, but most families don't know enough about symptoms or resources to act quickly and effectively."
Without significant support systems for the mentally ill, Booth believes the death toll will rise in 2014. "We do a lot of talking, we argue a lot, we worry about semantics and language and phrasing. All these things are important," she says, "but when we're done blowing our stacks we need to do the one thing we're not doing: fix the system that allows almost every single person to fall through its cracks."
BIO: Born in British Columbia, Janice Holly Booth is the bestselling author of two books: Only Pack What You Can Carry (National Geographic, 2011) and A Voice out of Nowhere (September 2013). She spent more than 20 years as a non-profit CEO working in service of children before becoming an international speaker and full-time writer. She lives near Charlotte, North Carolina.