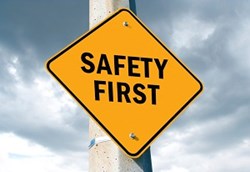 The canopy collapsed suddenly and violently without warning taking the five roofers that were on it down over 13 metres to the ground on what can only be described as a 'terror ride'.
Bolton, UK (PRWEB UK) 31 December 2013
Shrewsbury Crown Court heard on the 13th December, that Adstone Construction Ltd was appointed as contractor, to carry out work at the Abraham Darby Academy, a new secondary school in Madeley, Telford. (2)
As reported by the press release, the key pieces of the 40-tonne scaffolding structure were insufficiently welded together. As a consequence, the canopy collapsed causing serious injuries to roofers, and great damage to the front of the building. (1)
Mr. Drury, 29, was one of the five roofers involved in what the Health and Safety Executive described as a "terror ride". He was air-lifted to hospital, and discharged two days later, with a diagnosis of damage to his shoulder, and two vertebrae. (1)
As reported by the HSE, the other four workers suffered fractures, cuts, bruises and head injuries, to different parts of the body. (1)
Commenting on the incident, Adriano D'Ambrosio, Asons Executive, said:
"Falls at work are the most common cause of construction industry workplace deaths. Luckily, these injuries were not fatal. However, the five roofing workers have still endured a serious personal injury, suffering damage that could have been prevented, had the correct health and safety procedures been implemented."
"The construction firm allegedly didn't do enough to protect the contractors from the risks of working at height, despite being a specialist scaffolding firm, and being fully aware of the dangers of falls."
Adstone Construction Ltd was fined a total of £100,000, and ordered to pay £106,098 in costs, after pleading guilty to breaching Section 3 (1) of the Health and Safety at Work etc Act 1974. (1)
Speaking after the hearing, HSE inspector Andrew Bowker said:
"This incident had enormous potential for loss of life. The canopy collapsed suddenly and violently without warning taking the five roofers that were on it down over 13 metres to the ground on what can only be described as a 'terror ride'. It is a miracle that they were not more seriously injured or even killed."
"Other construction workers had been working directly under the school canopy for most of the day installing windows in the new school. Fortunately they were not under the canopy when it collapsed."
"Adstone Construction Ltd fabricated the steelwork for the canopy and failed to ensure that critical welds within the design of the steel truss were completed to the required specification and size.
"This failure led the canopy to collapse as more roofing material was added.
"It is vital that companies carrying out this type of work have suitable and sufficient quality control measures in place in order to ensure that the structural integrity of the new building is never in question." (1)
If you, or someone you know, have suffered, then you may be able to make a Personal Injury claim. Asons Solicitors deal with personal injury claims on a regular basis, you can contact them on: 01204 521 133 or you can fill out their claim form at http://www.asons.co.uk
(1) HSE - Contractors fined after worker fell from roof, 08/11/2013 press.hse.gov.uk/2013/construction-firm-fined-after-five-roofers-injured-in-school-steelwork-collapse/
(2) Shrewsbury Crown Court - S20130050
ENDS –
About Asons Solicitors:
Asons Solicitors is a Bolton-based law practice that specialises in personal injury and industrial disease claims. Founded by brothers Imran Akram and Kamran Akram, Asons Solicitors has developed to become a young and dynamic law firm that delivers practical solutions to clients in times of difficulty. Their continued focus on their staff has seen them awarded with the Investors in People "Gold Award"; which is reflected in the professional and personable approach they take in working with clients. They strive to grow and to develop, and their supportiveness and attention to detail ensures that their clients use them time and again.
For further information contact:
Email: info(at)asons(dot)co(dot)uk
Website: http://www.asons.co.uk