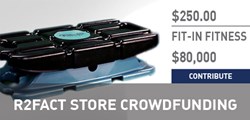 Our customers can move to success much more rapidly if their idea catches on at the R2FACT Store.
Kansas City, Missouri (PRWEB) January 02, 2014
R2FACT (pronounced artifact) is a local product development company that moves makers' product ideas through the design, engineering, prototyping and manufacturing stages. With the launch of the on-line R2FACT Store crowdfunding site at http://www.R2FACTStore.com, products can be tested for market demand while raising seed money for the local entrepreneur-makers.
The Store is a new crowdfunding model for launching products through advance ordering. The traditional product focus group is replaced with a marketplace where products can be pre-ordered with the funds accumulating towards a manufacturing run. Pre-orders prove market demand while at the same time raising money for production.
R2FACT is one of a handful of product development company makers pioneering the new advance-ordering, demand-proving model. The service is made possible by R2FACT's direct relationships with manufacturers, which reliably produce quality product at a known cost for on-demand delivery.
Says R2FACT's owner Steve Pope, "My first job out of college in 1990 was doing product development for a design firm in KC. Our number one client was a little company called Garmin. Gary Burrell and Min Kao frequently visited our office. These two engineers literally started Garmin out of their garages. Had we the ability to test market new product ideas and raise funds on-line with the R2FACT Store, Garmin could have become a multi-billion dollar company years before they actually did."
New products with proven demand equal new businesses equal new jobs: that's the ultimate equation the R2FACT Store is out there to solve. The support for pre-orders by crowdfunding drives a cycle of moving a product from prototype to marketplace availability. Says Steve Pope, "Our customers, whether start-ups or established companies, can move to success much more rapidly if their idea catches on at the R2FACT Store."
About R2FACT
Founded in 2002 and headquartered in Kansas City, Missouri, R2FACT Product Development partners with start-ups and established companies to grow their business and add value to their brands. The R2FACT Store was created to pre-launch products developed by R2FACT Product Development. The Store's crowdfunding pledges enable pre-ordering of products to validate demand for the product idea and fund production. The R2FACT store helps local makers of unique products get their products produced.