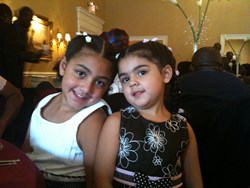 Atlanta, GA (PRWEB) February 04, 2014
On November 18, 2013, Atlanta based international family law attorney, Michael Manely, submitted the case of Joseph Camacho, an Austell, Georgia man fighting for the return of two daughters, at the Inter-American Court of Human Rights, citing the country of Costa Rica as non-compliant in the Hague Convention (Camacho v Costa Rica, case #19422013).
According to the Petition for Violation of Human Rights, Part 1, Camacho was awarded temporary custody in Cobb County's Superior Court (Camacho v Camacho, Civil Action No 11-1-1155-18) on December 13, 2011. On June 26, 2012, The Family Childhood and Adolescent Court of the Judicial Circuit 1 of San Jose in Costa Rica ruled in favor of Mr. Camacho and held that Ms. Camacho must return the abducted children (11-000602-0673-NA-7). In July 2012, Ms. Camacho appealed to the Family Tribunal of Judicial Circuit in San Jose, Costa Rica who also held in favor of Mr. Camacho (11-000602-0673-NA-7 Numero 669-12-(2)). On September 11, 2013, Mr. Camacho was awarded permanent custody of his two children in the Superior Court of Cobb County (Civil Action No 11-1-1155-18). Ms. Camacho then appealed to the Costa Rican Constitutional Court where custody was awarded to Ms. Camacho on the basis that the children had by then become "comfortable" in Costa Rico (13-003521-0007-CO).
In his appeal to the Inter-American Court of Human Rights (case #19422013), Mr. Manely submitted "while there are certainly times when the state must step in to protect the interests of the children against the parents, to do so in the manner of the Constitutional Court in Costa Rica has done…will only serve to facilitate future parents to abduct their children from the countries of habitual residence, abscond to Costa Rica … and deny the left behind parent any recourse to obtain justice under state law."
Christopher Camacho and Lucrecia Ramirez Comacho married in Smyrna, Georgia on Oct. 11, 2000. They had two daughters, Isabella, 12, and Elena, 7, who were born and raised in the family's home in Austell in Cobb County, Georgia, attending Imagine International Academy of Mableton and Vinings Creative Learning Center, respectively.
According to court documents, Camacho and his attorney claim that in June 2011 Lucrecia Ramirez Camacho traveled with the two children to visit her native country of Costa Rica. She left a note in the couple's dresser informing him that she no longer wanted to be married. She then refused to return the children to their place of residence in Austell, Georgia.
Metro Atlanta attorney Michael Manely established The Manely Firm, P.C., in 1989 with the goal of providing highly effective legal advice and representation to individuals and families struggling with complicated family law matters. More than two decades later, this comprehensive practice has developed into a leading divorce and family law firm with multiple office locations throughout Georgia in Marietta, Atlanta, Lawrenceville, Canton and Savannah. Mr. Manely has received recognition recently for being the only attorney in more than a decade to have presented a family law case before the United States Supreme Court (Chafin v. Chafin) and to have won unanimously.