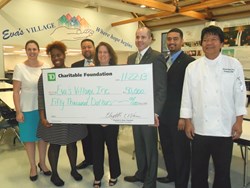 "We believe in giving back and working with organizations like Eva's Village that share this same value and mission. We are extremely proud of our partnership."
Paterson, New Jersey (PRWEB) December 23, 2013
The TD Charitable Foundation, the charitable giving arm of TD Bank, America's Most Convenient Bank® has been a long-time supporter of Eva's Village providing grants to support their services over the years. Through the TD Charitable Foundation and the financial grants it makes, Foundation partners along with area non-profits and public institutions, create meaningful change and improvement in their communities. One priority is in providing education, which made "The Culinary School at Eva's Village" a good match.
"TD Bank is committed to enhancing both the quality of life and financial well-being of our communities", said Don Buckley, Market President, TD Bank. "We believe in giving back and working with organizations like Eva's Village that share this same value and mission. We are extremely proud of our partnership."
Executive Director, Marie Reger, explained that Eva's Village is establishing a culinary school for clients and members of the community at large. "We are all very pleased to have the support of the TD Charitable Foundation for this venture," stated Marie Reger. "The lack of employable skills prevents many of our clients and those in the community from becoming self-sufficient and acquiring affordable housing. The most important issue is to help people in the community improve their job skills, improve their employment prospects and improve their ability to reach places of employment."
Donna Marie Fico, Director of Marketing and Education at Eva's Village notes that a culinary school to help individuals develop job skills for careers in the food service industry has been in the planning stages for some time. "Eva's board of directors authorized the culinary program more than two years ago. In July we hired an Executive Chef Director, Darryl Dela Cruz, and in October we submitted our Private Vocational School Application. We hope to enroll our first class in 2014."
For more information on The Culinary School at Eva's Village, contact: Donna Marie Fico, Director of Marketing & Education – Phone: (973) 523-6220 Ext. 230 or email Donna.Fico(at)evasvillage(dot)org. To support to The Culinary School at Eva's Village or one of our other programs visit http://evasvillage.org/donate2.shtml.
A staunch commitment to active involvement in the local community is a vital element of the TD Bank philosophy. TD Bank, America's Most Convenient Bank® and the TD Charitable Foundation provide support to affordable housing, financial literacy and education, and environmental initiatives, many of which focus on improving the welfare of children and families.
About the TD Charitable Foundation
The TD Charitable Foundation is the charitable giving arm of TD Bank N.A., which operates as TD Bank, America's Most Convenient Bank®, and is one of the 10 largest commercial banking organizations in the United States. The Foundation's mission is to serve the individuals, families and businesses in all the communities where TD Bank operates, having made $114.9 million in charitable donations since its inception in 2002. The Foundation's areas of focus are affordable housing, financial literacy and education, and the environment. More information on the TD Charitable Foundation, including an online grant application, is available at http://www.TDBank.com.
About TD Bank, America's Most Convenient Bank®
TD Bank, America's Most Convenient Bank, is one of the 10 largest banks in the U.S., providing more than 8 million customers with a full range of retail, small business and commercial banking products and services at approximately 1,300 convenient locations throughout the Northeast, Mid-Atlantic, Metro D.C., the Carolinas and Florida. In addition, TD Bank and its subsidiaries offer customized private banking and wealth management services through TD Wealth®, and vehicle financing and dealer commercial services through TD Auto Finance. TD Bank is headquartered in Cherry Hill, N.J. Find TD Bank on Facebook at http://www.facebook.com/TDBank and on Twitter at http://www.twitter.com/TDBank_US.
TD Bank, America's Most Convenient Bank, is a member of TD Bank Group and a subsidiary of The Toronto-Dominion Bank of Toronto, Canada, a top 10 financial services company in North America. The Toronto-Dominion Bank trades on the New York and Toronto stock exchanges under the ticker symbol "TD." To learn more, visit http://www.td.com.
About Eva's Village:
Eva's Village (http://www.evasvillage.org), originally a New Jersey soup kitchen, was founded in 1982 by Msgr. Vincent E. Puma in response to the increasing incidence of homelessness in his Paterson, NJ parish. But Msgr. Puma soon realized that a soup kitchen was not enough. With the generous support of thousands of donors and private and government grants, Eva's has grown to be the most respected anti-poverty program in New Jersey. Their mission is to feed the hungry, shelter the homeless, treat the addicted and provide medical and dental care to the poor with respect for the human dignity of each individual.