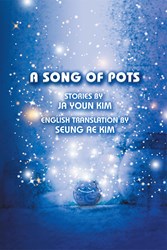 A glimpse at another culture via stories that are as heartwarming as they are meaningful.
(PRWEB) December 24, 2013
Translated into English by Seung Ae Kim, the seven short stories written by Ja Youn Kim in "A Song of Pots" all contain their own unique lessons or precious messages about life that will be meaningful to small children.
"Will you allow me to nestle in you? Please?"
"Of course! Don't just sit there—come on in!"
The cracked pot opened his heart wide to the exhausted wind.
"I am comfortable," the wind said at last.
"I'm glad I could help. I am really not a useful pot."
"That's not true. You are not different from the other pots. What is inside you only makes you look different from them."
"Really?"
"An empty pot may well be filled with something soon. You need to have hope."
On hearing this, the cracked pot choked up, unable to speak.
These stories are like beacons, much as the sun shining in the sky and the stars sparkling at night. The plots are based mainly on nature and human relationships.
A SONG OF POTS (ISBN: 978-1-62212-984-3) is now available for $11.97 and can be ordered through the publisher's website or at http://www.amazon.com or http://www.barnesandnoble.com.
WHOLESALERS: This book is distributed by Ingram Books and other wholesale distributors. Contact your representative with the ISBN for purchase. Wholesale purchase for retailers, universities, libraries, and other organizations is also available through the publisher; please email bookorder(at)aeg-online-store(dot)com
About the Author: Seung Ae Kim lives in Jeonju, South Korea, and currently teaches at Chonbuk National University. "I hope that Western children will now be able to read this book and be happier." This is her second book in English.
Strategic Book Publishing and Rights Co, LLC