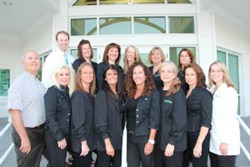 Palm Harbor, FL (PRWEB) December 20, 2013
Dr. Dan Knellinger of Knellinger Dental Excellence is now employing the use of the Laser Assisted New Attachment Procedure (LANAP) as a gum disease treatment that can help prevent tooth loss and bone loss. By some estimates, 97 percent of gum disease cases go untreated. Many dental professionals believe that this reluctance to seek treatment is partially due to patients' fear of invasive dental procedures. Many gum or periodontal disease treatments require the surgical cutting of the gums and manual removal of diseased tissue.
Periodontal disease is caused by bacteria in the mouth. Bacteria cause a sticky film on teeth called plaque. Plaque that is allowed to remain on the teeth hardens into tartar. These bacterial processes in the mouth can destroy gum tissue, creating pockets in the tissue around the tooth and weakening the bone that supports the tooth. This condition can ultimately lead to tooth loss.
LANAP is a cutting edge, FDA-cleared procedure that is non-invasive. Dr. Knellinger uses a special laser to remove damaged gum tissue and to stimulate regeneration of the bone that surrounds the tooth. Because the laser is selective, the healthy tissue in the gum is untouched and remains intact. This increases the chance that the patient can keep his or her natural tooth.
LANAP gum disease treatment offers patients a faster recovery time with less discomfort than periodontal surgery of the past, making it a good option for people who are fearful of traditional dental procedures. Patients who wish to learn more about how LANAP may be able to improve their oral health can visit http://www.palmharbordentistry.com for more information.
About The Doctor
Knellinger Dental Excellence is a general practice offering patients personalized dental care in Palm Harbor, Florida. As a father-daughter team and Palm Harbor natives, Dr. Knellinger and Dr. Verkler both attended the University of Florida and University of Louisville School of Dentistry. They are part of one percent of dental professionals providing the most recent FDA cleared laser procedure for gum disease treatment. To learn more about Knellinger Dental Excellence and their services visit their website at http://www.palmharbordentistry.com and call (727) 785-3383.