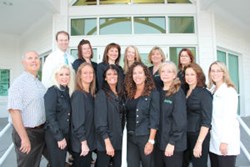 Palm Harbor, FL (PRWEB) December 24, 2013
Palm Harbor residents who suffer from sleep apnea can be diagnosed and treated by sleep apnea dentists Dr. Dan Knellinger and Dr. Stacey Verkler. Sleep apnea occurs when air passages are blocked during sleep. This can decrease the amount of oxygen that reaches the brain. Symptoms of sleep apnea include snoring and gasping during sleep. The goal of sleep apnea dentistry is to help patients sleep safely.
Sleep apnea often goes undiagnosed because symptoms occur when sufferers are asleep. Sleep apnea may be hereditary and is most commonly experienced by people who are over forty years old, as well as people who are overweight. Males are more likely to be affected than females. An individual with physical features like an overly large tongue or narrow airway may also be more likely to develop this condition. But it is important to realize that many people who do not fit this description still suffer from the effects of sleep apnea, including daytime fatigue and overall tiredness.
A sleep apnea dentist may provide individuals who believe that they have sleep apnea with a recording device. The individual will then wear at night to record information and bring it back to the Dr. Knellinger and Dr. Verkler. They then review the recorded information. If results are abnormal, then they will discuss with the patient the next step.
Upon diagnosis and approval of a physician, Dr. Knellinger and Dr. Verkler can design a mouth apparatus that will help keep the patient's airway open so that he or she can breathe easier while asleep. This type of device is made from light, comfortable material and works by pulling the jaw forward into a position that optimizes the airway. Depending on the case, Dr. Knellinger and Dr. Verkler may also advocate lifestyle changes like smoking cessation or sleep position changes. Sometimes simple changes like these can help to lessen sleep apnea.
Individuals who may be suffering from sleep apnea can learn more about sleep apnea dentistry at http://www.palmharbordentistry.com.
About The Doctor
Knellinger Dental Excellence is a general practice offering patients personalized dental care in Palm Harbor, Florida. As a father-daughter team and Palm Harbor natives, Dr. Knellinger and Dr. Verkler both attended the University of Florida and University of Louisville School of Dentistry. They are part of one percent of dental professionals providing the most recent FDA cleared laser procedure for gum disease treatment. To learn more about Knellinger Dental Excellence and their services visit their website at http://www.palmharbordentistry.com and call (727) 785-3383.