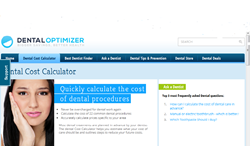 One of the really clear benefits for insurance carriers is product differentiation. - Andrew Clapp, Healthy Grid
Portland, OR (PRWEB) December 23, 2013
Healthy Grid LLC announced the white label offering of their Dental Optimizer application to insurance carriers and dental associations. This allows organizations to offer the popular dental resource with their own branding and customized options.
The Dental Optimizer is a dental-web-marketing tool that brings patients and dentists together to inform patients about their dental health and connect them to the best-suited dentist for their needs. It provides benefits to the participating dentists as well since they gain increased exposure among people looking for dental care.
When a member of the public uses a search engine to find an answer about a dental question they are often directed to the Dental Optimizer where they can ask a dentist about their problem. If someone is looking for a dentist in their area they are also likely directed to the Dental Optimizer where they can find a dentist near their home or work.
Many dentists have chosen to maintain a profile on the Dental Optimizer where they receive questions and inquiries by email from the site. Many dentists also choose to post articles on the Dental Optimizer where people can find them in the collection of articles and tips. Dentists have found that their participation in the articles and questions have led people to contact them and become patients.
"We've been getting plenty of positive feedback on the public Dental Optimizer," says Healthy Grid's Andrew Clapp. "Patients like being able to find a dentist they can check out before and the dentists like being able to interact with patients before their first appointment. An insurance company asked us if they could use the format to serve their members and network. We decided to move forward and also offer that option to other insurers, associations and even large groups in the form of a white label."
The white label version of the Dental Optimizer is customized and branded for the company that purchases it. It is mobile-optimized so that members can use all of its programs from smart phones and tablets. The first white label customers are reporting satisfaction from both patients and dentists.
Site users who are insurance members have the option of filling out dental health and risk assessments as well. This gives them an idea of the condition of their teeth and allows them to forward the results to a dentist if they choose to make an appointment. Dentists have told Healthy Grid that they appreciate having the advance information for new patients.
Healthy Grid offers different options for different companies. Clapp explains that customization flexibility is a continual demand from their clients."One of the really clear benefits for insurance carriers is product differentiation," according to Clapp. "They're finding that they can stand out by offering a better experience for their members and clients. This leads to increased participation from employees, less work for the insurers, less work for the HR reps at their clients."
The white label Dental Optimizer allows the carrier to customize every option in the program and also offers additional dental web marketing support as well as cooperative opportunities to provide dental products to their members.
The public version of the site is available at: http://www.dentaloptimizer.com. More information about white label versions can be found at http://healthygrid.com/index.php/dental-optimizer.