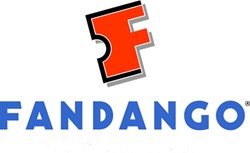 LOS ANGELES (PRWEB) December 20, 2013
Fandango, the nation's leading moviegoer destination, is celebrating advance ticket sales for the upcoming January 17 release of Universal Pictures' RIDE ALONG by launching the "Fandango RIDE ALONG Sweepstakes" today. Ice Cube and Kevin Hart fans can enter online at FandangoRideAlongSweeps.com, or be automatically entered when they make a RIDE ALONG ticket purchase at Fandango.com, for the chance to win their very own 2014 Dodge Charger R/T—like the one depicted in the new action-comedy that hits theaters on January 17, 2014. Ten lucky recipients will have the chance to win $100 gas cards as first prizes.
Fans can also earn additional entries into the sweepstakes by inviting friends to participate through Facebook, Twitter and Google+. Participants must be 18 years of age or older, and all entries must be submitted by 9:00 a.m. PT on Saturday, January 25, 2014. Full rules and other details about the sweepstakes can be found at FandangoRideAlongSweeps.com.
About Fandango
Fandango, the nation's leading moviegoer destination, sells tickets to more than 22,000 screens nationwide. Fandango entertains and informs consumers with reviews, commentary, celebrity interviews and trailers, and offers the ability to quickly select a film, plan where and when to see it, and conveniently buy tickets in advance. For many theaters, fans can print their tickets at home or receive them as a paperless Mobile Ticket on their smartphones. Fandango's top-ranking movie ticketing apps, with 39 million downloads, are available on the iPhone and iPad, Android, and many other platforms. Fandango is enjoyed by more than 30 million online and mobile visitors each month, according to comScore. Film fans also find Fandango on Facebook at http://www.facebook.com/fandango and on Twitter @Fandango.
About RIDE ALONG
Kevin Hart and Ice Cube lead the lineup in RIDE ALONG, the new film from the director and the producer of the blockbuster comedy Think Like a Man. When a fast-talking guy joins his girlfriend's brother—a hot-tempered cop—to patrol the streets of Atlanta, he gets entangled in the officer's latest case. Now, in order to prove that he deserves his future bride, he must survive the most insane 24 hours of his life.
For the past two years, high-school security guard Ben (Hart) has been trying to show decorated APD detective James (Cube) that he's more than just a video-game junkie who's unworthy of James' sister, Angela (Tika Sumpter). When Ben finally gets accepted into the academy, he thinks he's earned the seasoned policeman's respect and asks for his blessing to marry Angela.
Knowing that a ride along will demonstrate if Ben has what it takes to take care of his sister, James invites him on a shift designed to scare the hell out of the trainee. But when the wild night leads them to the most notorious criminal in the city, James will find that his new partner's rapid-fire mouth is just as dangerous as the bullets speeding at it.
John Leguizamo and Laurence Fishburne join the cast of the action-comedy directed by Tim Story. Ride Along is produced by Will Packer (Think Like a Man), alongside Ice Cube, Matt Alvarez (Barbershop) and Larry Brezner (Good Morning, Vietnam).