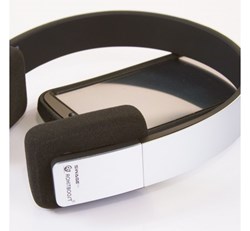 Rokit Boost hosting hot holiday discount on its SWAGE Bluetooth headphones.
New York, NY (PRWEB) December 23, 2013
This holiday season, mobile devices are projected to be one of the top-selling items for gift selections. The popularity of mobile devices is easily seen to be widespread, with over 2 billion mobile devices being shipped out globally in just this year.
In response to the heightened demand, Rokit Boost is pleased to announce a hot holiday sale on its bestselling SWAGE Bluetooth headsets, available regularly for just under $50.00. This product is the perfect complement to any mobile device, enhancing audio quality while blocking out all outside noise distractions.
These headphones are a leading mobile accessory for duration, with a battery life that lasts for up to one-third of a day. Sporting state-of-the-art noise cancellation technology and an extra compact design, the Rokit Boost SWAGE Bluetooth headsets raise consumer expectations for audio listening in the crowded mobile accessories marketplace.
It's the perfect blend of affordability, audio perfection, and portability, and it's sure to enhance the user experience of any major appliance or Bluetooth-enabled device.
Sound Like No Other
Users can listen to what they want, whenever they want, free from any distraction or bothersome outside noise. It's a great choice for consumers who want to double down on quality but not sacrifice on portability or functionality.
Superb, leading-edge noise-cancelling technology delivers phenomenal audio clarity and an unheard-of listening experience.
The SWAGE's built-in microphone makes it ideal for use in multiple applications, and users feel like they're in the same room with whomever they're conversing.
Concerned about great functionality? No problem. The SWAGE headphones come with a special multi-function button design so users don't have to worry about operation. With a lightweight body and extra compact design, these Bluetooth headphones are easily taken and stored anywhere so users can listen to music on-the-go, indulge themselves at the office, or rock out to their favorite jams while at their home.
A short charge time of 30 minutes or so lets users envelope themselves in one of the latest innovations for top audio quality for a long, unmatched playback time of up to 8 hours.
No Cords, More Freedom
With these Bluetooth headsets, users don't have to worry about lots of messy cords getting in the way or weighing them down. Featuring Bluetooth V2.1+EDR support, the Rokit Boost SWAGE headsets are compatible with the iPhone, iPad, iPod, Android, and any major appliance or device with Bluetooth compatibility.
Mobile accessory consumers everywhere endorse the SWAGE for its exceptional value in audio clarity, noise cancellation, price-competitiveness, and easy storage and operation. One reviewer, John Bounnam, notes that the headphones' "sound is phenomenal and microphone works great. If you're looking for a better wireless headphone and want to stay under $75 then this is perfect.
There are some better headphones if you spend $200, but not by much and not worth the extra money. The buttons are well positioned, and I never had to worry about pressing the incorrect one because of its simple set-up."
Get 'Em While They're Hot
The Rokit Boost SWAGE headsets are available through Rokit Boost's online store and select retailers and providers. Regularly priced at $49.99, the Bluetooth headsets also come with a 1-year warranty. Free shipping is extended to consumers inside the United States.
Rokit Boost is currently extending a 10% discount on this product and all mobile accessories until Wednesday, December 25, 2013 at 11:59 PM EST. The discount is available through an exclusive coupon code at http://www.rokitboost.com. Inventory is limited while supplies last.
About Rokit Boost
Rokit Boost is a pioneer and provider of high-end, luxury mobile accessories. The company brings exceptional value to mobile lifestyle consumers by offering accessories that substantially improve the user experiences of existing electronic devices. Whether engineering iPhone charger cases, Bluetooth headphones, or wireless Bluetooth speakers/microphones, Rokit Boost's team leverages leading-edge technological improvements to enhance the usability of today's most popular mobile devices.
Rokit Boost's first priority is giving its customers complete satisfaction, with a philosophy of great customer service, great prices, and, above all else, great-quality products.