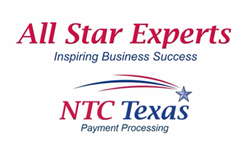 Las Colinas, Texas (PRWEB) January 09, 2014
NTC Texas, the leading provider of payment processing solutions for North American Businesses across multiple industries, has launched the All Star Business Experts video series highlighting successful entrepreneurs and their strategies for success. The series is being launched as a valuable resource for business owners to share their ideas and strategies on what makes them successful in their particular niche or industry. The series covers topics such as running a family business, alternative ways to generate leads and referrals, redirecting skills to new industries, social media marketing and more.
The series, which launched in October 2013 kicked off with an expert interview from Rex Anderson, CEO of Anderson Commercial Real Estate Services, Inc. (ACRES), based in Addison, Texas. Anderson's videos offer great insight in to starting a real estate business as well as the value of joining associations.
"We are always looking for innovative ways to provide entrepreneurs with the tools and insight they need to be successful in their endeavors, "said Linda Borek, President and CEO of NTC Texas. "Our interviewees bring years of expertise to the table offering valuable perspectives to up-and coming business owners."
The most recent video in the series features Debra Burden, owner of North Texas based water testing company, AquaKnow. In the series, Burden discusses creating a work/life balance when operating a family business, networking building and her experiences changing industries through the course of her career.
The entire All Star Business Expert series can be found on the NTC Texas blog page at http://www.ntctexas.com/credit-card-processing-blog/.
Do you know any "All Star Business Experts" that would make a good candidate as an interviewee? Contact us at [email protected] and let us know.
About NTC Texas:
Established in 2004, NTC Texas located in Las Colinas, Texas is the leading provider of Merchant Services representing Elavon Global Acquiring Solutions throughout the United States and Canada. NTC Texas is best known for its world class customer service and flexibility in providing optimized solutions for businesses across multiple industries. As registered members of both Visa and MasterCard Associations, their credit card processing services assist in the financial success of businesses by increasing revenues and decreasing costs. The NTC Texas Affiliate Program also provides individuals and businesses lucrative opportunities to receive monthly commissions for referring clients to NTC Texas.