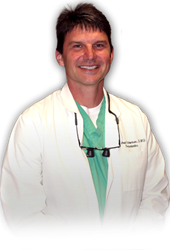 Tupelo, MS (PRWEB) December 24, 2013
Patients of Dr. J. Michael Robertson will now benefit from an educational website where they can learn about various oral health conditions and options for treatment. With the help of the website, Dr. Robertson's patients can become more knowledgeable and comfortable about various procedures, including periodontal disease treatment, dental implants, and more. Dr. Robertson hopes that people will take advantage of this resource and use it to be more proactive about their oral health.
For people afflicted with gum disease, which may affect more than 60 million adults in the U.S., according to the Centers for Disease Control and Prevention, Dr. Robertson offers the FDA cleared minimally invasive Laser Assisted New Attachment Procedure (LANAP). Rather than making cuts to remove unhealthy gum tissue, Dr. Robertson uses a laser that exclusively targets periodontal disease. The procedure promises patients convenience and a low risk of complications. patients who choose this periodontal disease treatment can also improve the likelihood of later dental treatments being successful.
One treatment that Dr. Robertson often recommends when teeth are lost is the placement of dental implants. These implants replace teeth that have been lost to decay, gum disease, or other causes. Many patients appreciate the security of implants, which are anchored in the jawbone and cannot slip or move. However, the main benefit of implants is that they provide the jawbone with stimulation, which keeps it from deteriorating.
Patients who are preparing for these procedures and feel any confusion or concern can now visit Dr. Robertson's website for concise, understandable information. IF you need information on periodontal disease treatment or other dental procedures are invited to visit the new website at http://www.northmsperio.com or call Dr. Robertson's office today.
About the Doctor
Dr. J. Michael Robertson is a periodontist offering personalized periodontics and implant dentistry in Tupelo, MS. Dr. Robertson received his B.A. from the University of Mississippi as a chancellor and Dean's List scholar, and his D.M.D. from the University of Mississippi School of Dentistry. He earned his certificate in periodontics from the University of Alabama. Dr. Robertson is part of one percent of dental professionals providing the LANAP FDA cleared laser procedure for gum disease. To learn more about Dr. Robertson and his periodontal and implant services visit his website at http://www.northmsperio.com.