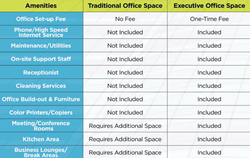 What was initially a temporary solution for many businesses is now becoming a more permanent one.
New York City, New York (PRWEB) December 30, 2013
Statistics taken from a variety of sources including Regus, OfficingToday, and Deskmag were processed by research analyst Jon Bachrach. Bachrach reveals a dramatic increase in office suite demand for 2014. Office suites (also known as executive suites and serviced offices) are all-inclusive office spaces that typically come furnished. They differ from traditional offices because of their flexible lease options and their built-in amenities, but Bachrach says there are other reasons why these are on the rise.
"What really stands out is the retention rate among current tenants. Companies that initially signed for a 3 or 6 month duration are recognizing the long-term benefits that Executive Suites provide. What was initially a temporary solution for many business is now becoming a more permanent one.
The Americas have experienced a 13% growth in serviced offices this year. In 2014, around a quarter of US businesses plan to increase their staff by 25%, and the JOBS Act of 2013 is making it easier for new businesses to grow. Executive Suites can reduce infrastructure costs by up to 60% and remove leases from a company's balance sheet.
"It makes sense especially for businesses looking to get started quickly. With a traditional office, you have moving costs, cable and internet concerns, infrastructure build-outs; these office suites are ready-to-move-into on day one," says Bachrach. "In addition, the highly efficient design of these types of work spaces allows companies to rent less space at lower costs."
Turnkey Office Space is a countrywide search and consulting services for companies seeking office space. They specialize in office suites, virtual offices, and coworking spaces. Turnkey can be reached via their website http://www.turnkeyofficespace.com and by phone at 1-888-282-8555.