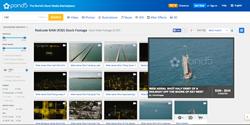 At over 2 million clips, Pond5's stock video collection is the largest on the web.
New York, NY (PRWEB) December 20, 2013
Pond5, The World's Stock Media Marketplace, announced today that its collection has surpassed 2 million video clips, and that Redcode RAW (R3D) -- the native format for the popular RED series of ultra-HD cameras -- is now supported on the platform. With the largest selection of royalty-free video on the web and the addition of RED, the production format of choice for many top filmmakers, Pond5 continues to empower media producers with its vibrant marketplace for creativity.
"RED offers stunning resolution and color depth, and enormous flexibility in post-production," said Javier Salinas, Lead Video Curator. "We've been seeing an increasing amount of 4K and higher resolution footage coming onboard, and there's fast-growing demand for it from our buyers. We're proud to be leading the charge by becoming the first true marketplace to support R3D, making their pristine, customizable, professional-quality footage accessible to a wider audience."
At over 2 million clips, Pond5's stock video collection is the largest on the web, and has doubled in size over the past year. Meanwhile, the site is seeing accelerating growth across all media types. "Thanks to the tens of thousands of artists around the world who have entrusted us to represent their content, we are rapidly expanding the size of our collection, as well as its quality and diversity," said co-founder and CEO Tom Bennett. "We've found that by giving our artists greater freedom and control, we've ended up with higher-quality content, and more of it."
Contact:
Jared Van Fleet
Press Relations
+1 917-740-3799
jared@pond5.com
About Pond5:
Pond5 is the world's most vibrant marketplace for media makers, offering the web's largest collection of royalty-free video footage, as well as millions of stock photos, vectors, music tracks, sound effects, Adobe After Effects project templates, and 3D models.
Headquartered in New York City with employees in over 14 countries around the world, Pond5 has seen accelerating growth over the past several years, with a disruptive marketplace model that lets contributors earn industry-leading royalties and set their own prices. The company also owns Pixmac, a leading stock photo marketplace based in Prague.
For more information, visit pond5.com, and follow Pond5 on Twitter and Facebook.