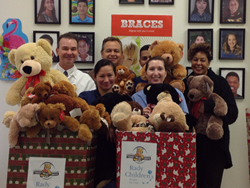 San Diego, CA (PRWEB) December 20, 2013
SmileCare's dental team and patients joined together to make the holidays brighter for hundreds of sick children this year. They donated almost 200 teddy bears to children undergoing treatment at Rady Children's Hospital.
Orthodontist Geoffrey Kopecky, DDS, teamed up with San Diego Regional Law Enforcement Teddy Bear Drive organizers to arrange for eight SmileCare offices in San Diego, Chula Vista, El Cajon, and La Mesa to become collection sites for the stuffed animals. Dr. Kopecky then kicked off the effort by personally donating 100 teddy bears. His generosity inspired his colleagues and patients, who helped ensure more children could have a cute, cuddly companion during their hospital stay. A caravan consisting of more than 100 officers and deputies delivered the teddy bears to Rady's on Tuesday.
SmileCare's team of general dentists and specialists enjoy helping people smile every day. Dr. Kopecky, who was recognized as "Top Doc San Diego" by Channel 5 Fox News in 2011, and his fellow SmileCare orthodontists offer free orthodontic consultations to patients who would like to know if braces or invisible aligners could help them have the smile they always wanted. To learn more, call 1-800-32-SMILE or visit SmileCare.com.
# # #
About SmileCare
SmileCare Coast Dental of California, Dental Group of Adam Diasti DDS PC, with its professional associations, is one of the largest providers of general and specialty care in the United States with 180 affiliated practices operating as Coast Dental, SmileCare, and Nevada Dental Associates in Florida, Georgia, California, Nevada and Texas. SmileCare offers family dentistry services and orthodontics at most of its California locations, plus many offices offer pediatric dentistry, oral surgery, endodontics, and periodontics. SmileCare accepts more than 200 types of insurance, and has special offers for patients without insurance. To find a location or request an appointment, call 1-800-32-SMILE or visit SmileCare.com.