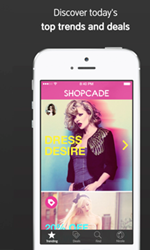 "Shopcade is the go-to app for fashion lovers who are looking for celeb styles, real-life trends and deals," explains Nathalie Gaveau, Shopcade Founder & CEO.
(PRWEB) December 22, 2013
With an update of its iPhone application and the release of its new Android app, Shopcade is now making it easier for young fashionistas to keep up with top trends and deals.
Keeping up with new fashion styles takes a large amount of time and effort, and the same goes for keeping up with good deals or even finding the best-priced items for the looks girls and guys covet. Shopcade, a daily source of fashion trends and deals, introduces a one-stop shop for time and cost-conscious young fashionistas.
Everyday the app features looks from the celebs style-setters admire, the bloggers that inspire them, the magazines they read, and Shopcade's own community of trend setters. When users find products they like, they can shop or save them for later and get alerted whenever they go on sale.
As Nathalie Gaveau, Shopcade Founder & CEO, explains: "Shopcade is the go-to app for fashion lovers who are looking for celeb styles, real-life trends and deals."
Shopcade is available on the AppStore and on the Google Play Store for free.
Main app features:

Daily trends: Login daily to see today's most fashionable celeb looks, street styles, trends and deals on a personalized "Trending" tab.
Personalized infinite wishlist: Every product can be saved to personalized lists, making it easier to shop them later or share with friends and followers. It's also easy to use lists to share individual styles with the community. It's simple to revisit all personalized lists in a "Profile" tab.
Deal alerts: Shopcade keeps tabs on deals on all products a user wanted, and will alert then when they go on sale, including price drops or special offers on your "Deals" tab. Shopcade will also get exclusive deals for them if a product or brand becomes popular on Shopcade.
More than just fashion: Users can also browse for beauty, home, gadgets and other items in Shopcade's catalogue of more than 100 million products and 150,000 brands.
Join Shopcade's fashionista community: Users can discover and follow favorite brands, trendsetters and lists to stay connected.
Additional information:
Screenshots, icons and other related media are available for download from here: http://blog.shopcade.com/press/.
Behind the scenes…
Unlike other online shopping marketplaces that base recommendations on previous shopping activity, the entire Shopcade experience - from what is seen in a users feed to what deals and products are ranked highest in searches - is primarily based on shoppers' social and interest graphs. Discovery of other shoppers whose opinions can be trusted, is facilitated by Shopcade's Trend Score, inspired by Klout's influence rating program. Graph technologies and natural language processing are at the heart of this online shopping breakthrough -- connecting users with other Shopcaders, deals, brands, and retailers they'll love.
Shopcade is currently active in the US and the UK, and looking forward to launching new countries next year.
What Shopcade's partners think:
"Top trends, amazing deals and thousands of products all in one place, what more could we ask for?!"
Missguided
"Company loves to innovate and work with exciting new brands. Shopcade is the ideal partner for us – enabling our fashion-conscious readers to access the products they lust after quickly and easily."
Victoria White, Editor, Company Magazine
"What sets Shopcade apart is their constant willingness to offer innovative new promotional tools and customer engagement methods for our business."
Dorothy Perkins
"Working with Shopcade throughout London Fashion Week was on absolute pleasure. Shopcade was more than helpful offering Reiss' women's collection a variety of unique brand exposure opportunities via exciting and on brand social media campaigns."
Reiss
What Shopcade's members think:
"Shopcade is a super fun way to curate your favorite products and make inspiration boards!"
Amber Atherton (My Flash Trash/ Made in Chelsea)
"Great deals on BIG names! I found Alexander McQueen 'burlesque' pumps for 60% off! I would have never found them at such a reduce price if it wasn't for Shopcade."
Jess Shanahan
"Goodbye to trailing voucher sites! Loving the 'Deals on products I want'! Even easier to pick up a bargain, especially when there's multiple deals to choose from. Sooooo much easier than trailing through voucher sites or even more annoying spotting a code just after you've clicked pay."
Amy Zwaan
"One Stop Fashion Shop! I love how all on trend fashion items are together to access in one area!"
Laura Kidman
The Shopcade Team
Nathalie Gaveau
CEO
Nathalie brought together the team and the awesome investors in only her second ever Internet venture, having successfully co-founded and exited from Rakuten acquired marketplace leader Priceminister.com - a French Ebay competitor and one of the first independent e-commerce sites in Europe. Nathalie focuses on strategic decisions, ensuring Shopcade continues to be the ultimate personal shopping destination.
Nathalie loves to shop on trend fashion, eco-friendly health products and new apps. She likes thriller movies, hatha yoga, golf (but not putting), an ice cold beer and spending quality time with her little monsters and friends.
Evan Adelman
Technology
Evan brings over 14 years of experience from developing and growing technology platforms for social media, finance and consumer brands for clients such as Citigroup, Givaudan, and Morgan Stanley. As the Technology Director at M&C Saatchi, Evan has a lot of innovation. He oversees a team of highly prolific developers at Shopcade working with open source, graph databases, big-data, social and mobile technologies.
Evan loves to shop for gadgets & gifts. He's into cooking tex-mex experimenting with home brew, and annoying his dog & cat with very bad guitar playing.
Marie-Barbe Girard
Operations and Commercial
MB brings over 15 years experience in delivering strategic projects, as a special advisor/chief of staff to Government Ministers and the Mayor of London. As the guardian of business operations at Shopcade, she manages the integration of over 100 million products from 300,000 happy brands on Shopcade.
MB is always on the look out for retro furniture and exotic food - the spicier the better. She loves nothing more than a great movie, be it an art house classic, a superhero blockbuster or a light-hearted rom-com.
Hoon Kim
Creative
Prior to Shopcade, Hoon developed award-winning campaigns and designs for TBWA and other creative agencies around the globe. He is known for creating modern, innovative user experiences that just work. From conceptualization to execution of how Shopcade looks and behaves, Hoon manages both the introduction of new features and overall design.
Hoon loves being a modern gentleman and shops accordingly. He also loves snowboarding, electro music, and burritos, in that order.
The Investors
Shopcade's well-known investors include Carrefour's Daniel Bernard, Eidos' Ian Livingstone and the BBC's Lord Birt. Shopcade recently completed a new funding round, raising $4 million from a range of business angels, including Pascal Cagni (formerly head of Apple's European business from 2000 to 2012) and Michel Combes (CEO of telecommunications company Alcatel-Lucent, and ex-CEO of Vodafone Europe).