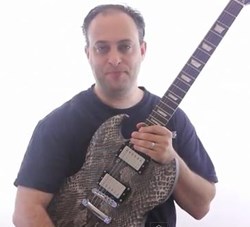 (PRWEB) December 20, 2013
In this guitar lesson, now available on YouTube.com, Claude Johnson talks about some useful ideas for getting started playing the guitar.
"I have six tips that I would like to share with you," says Johnson. Number one: your guitar, make sure you have a descent instrument. "Forget trying to get that old dusty guitar that's in your grandma's basement; if your guitar does not give you a descent level of sound, you are not going to be able to tell if you are doing something wrong." Claude says, "You don't need to go out and spend thousands of dollars on a guitar either." Number two is: make sure you have fresh strings; they are only a couple of dollars and they are going to totally improve your sound. "If you have old dead strings, you're going to get an old dead sound," says Johnson. Number three; being in tune. You want to get an electronic tuner to make sure that you are in tune; Claude recommends the "clip on" type. Tip number four; learn basic chords, no matter what style you are into, the basic chords are universal across all genres. Tip number five; practice everyday, "consistency is king," says Johnson. You are going to want to practice everyday, for at least a few minutes. And finally, tip number six; find a good mentor or teacher. Having some guidance is going to save you lots of time. Claude recommends you check out his beginner guitar course at GuitarControl.com/beginner.
Claude Johnson
Claude Johnson, a native of Philadelphia PA, began playing guitar in 1990 after being inspired by players like Jimi Hendrix, Eric Clapton, and Stevie Ray Vaughn. He is the creator of GuitarControl.com and has helped 1000's of people to learn to play the guitar with his critically acclaimed instructional DVD courses, all available at GuitarControl.com
About GuitarControl.com
GuitarControl.com is the leader in modern guitar instruction. It's packed with recourses including articles, video lessons, and the best videos in the business for the beginner to the advanced guitar student taught by the best instructors out there. Whether you are into the blues, rock, jazz, metal, folk, or anything in between, they have you covered.