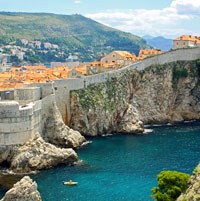 This trip provides the unique opportunity to explore archaeology, art, and culture on both sides of the Adriatic Sea—in Italy and Croatia. (Clay Patton, Director of Cultural Explorations)
Cortez, CO (PRWEB) December 22, 2013
The sea lanes of the Adriatic have been crossed and recrossed for millennia—notably during the Roman, Byzantine, and Ottoman empires and the Venetian Republic. The archaeology, art, and architecture of the Adriatic coast reveal a complex, often contentious, history. Next year, the Crow Canyon Archaeological Center invites travelers to join scholar Dr. Don McGuire in an exploration of this cultural crossroads in a two-part trip: Adriatic Crossroads.
In Part I of the trip (June 26–July 5, 2014), Crow Canyon will lead an exploration of the cultural riches of northern Italy, from Ravenna to Venice to Udine. A highlight of the trip is a visit to the archaeological site of Aquileia, one of the most complete ancient Roman cities of the Mediterranean.
Part II (through July 14, 2014) begins in northern Italy, and then passes through Slovenia into Croatia, exploring the Dalmatian Coast down to Dubrovnik. Archaeological highlights in Croatia include Bribirska Glavica, a site that preserves thousands of years of history, and spectacular Roman ruins in Pula and Split. (You may sign up for either part, or combine the two trips.)
Along the way, travelers will enjoy some of the finest scenery, food, and hospitality in the Mediterranean.
Dr. Don McGuire, a noted scholar of classical civilizations, archaeology, and Mediterranean history, will lead the trip. Dr. McGuire is an adjunct associate professor at the University at Buffalo, State University of New York. He has a Ph.D. from Cornell University and has led scholarly tours through Turkey, Greece, and Italy.
For more information or to sign up for the trip, e-mail travel(at)crowcanyon(dot)org; call 800.422.8975, ext. 136; or register online.
About the Crow Canyon Archaeological Center
The not-for-profit Crow Canyon Archaeological Center, located near Cortez, Colo., conducts long-term, multidisciplinary research into the ancestral Pueblo Indians of the southwestern United States and provides experiential education programs for adults, teens, and children. For nearly 30 years, Crow Canyon has also offered domestic and international culture and archaeology tours.