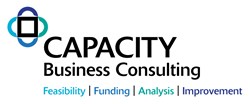 We are very pleased to have been selected for such a great project.
Monticello, NY (PRWEB) December 23, 2013
The proposed $90 million Veria Lifestyle Management Center is a 265-room health resort focusing on holistic treatment and healing based on Eastern natural medicine philosophies. The project will renovate the closed Kutsher's Resort, located in Monticello, NY and is targeting to open as soon as 2015.
Veria is part of a global media empire run by Subhash Chandra, one of India's richest businessmen, who anticipates buying the 1,310-acre Monticello property from the Kutsher family by the end of this month.
Capacity Business Consulting, a local management consulting company was hired to conduct a cost/benefit analysis to determine if the project will have a net economic benefit to the area.
"We are very pleased to have been selected for such a great project," said Eric Egeland, President of Capacity. "Our reputation is strong and appears to be growing. As a board member for the Sullivan County Chamber of Commerce and a member of the Sullivan County Partnership for Economic Development, we are thrilled to be working locally on these projects."
About Capacity Business Consulting
Capacity Business Consulting provides a broad array of services that help our clients start, grow, fix, fund, or sell their businesses. Engagements include feasibility studies, funding preparation, operational strategy, growth strategy, fiscal/economic impact, turn-arounds, etc. For more information, visit http://www.capacitybusinessconsulting.com/646/#.UrSTVE13tkQ.
845.764-9484
info(at)CapacityConsultingInc(dot)com.