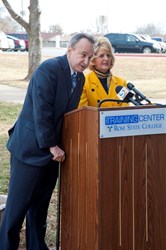 "We are so proud the Institute selected Rose State College as its new home," said Dr. Jeanie Webb, President of Rose State College.
Oklahoma City, Oklahoma (PRWEB) December 22, 2013
The move begins a new phase for Rose State College and Oklahoma City's Memorial Institute for the Prevention of Terrorism.
MIPT's mission, born in the days following the bombing of the Alfred P. Murrah Federal Building on the morning of April 19, 1995, is "to enhance the public safety through training, professional development, and education" of police officers, to which the institute refers as "the nation's 800,000 eyes."
"We are so proud the Institute selected our college as its new home," said Rose State President Dr. Jeanie Webb. "As an organization that provides educational opportunities to the nation's first responders, the Institute will complement our lifelong learning mission. Our Professional Training Center already provides a broad range of professional development programs, and our new partnership will allow us to offer an expanded certificate-based curriculum to personnel who are so critical to ensuring public safety."
Rose State's Dean of Community Outreach and Workforce Development, Dr. Bret Wood, also said, "This partnership between our agencies allows for a new level of service and educational opportunities for our students and our community."
The Institute plans to develop with Rose State a "Master of Policing" certification program for law enforcement officers, said MIPT Executive Director David Cid. Cid also cited Rose State College's nationally-known Cyber Security program as another academic area with which MIPT can coordinate.
Cid noted that Rose State College itself has ties to the 1995 bombing, underscoring the college's connection to the Institute's mission. A memorial on campus is dedicated to the 21 people associated with the college who died in the bombing. Each person's name is engraved on a granite panel that was originally part of the Murrah building.
"The charge we were given by the families and survivors keeps me working hard, despite any difficulties we've had. This is what we bring to the table. We bring the obligation to do the best work we can. Rose State is the perfect place for that," Cid said.
Cid said the presence of Dr. Webb's husband, Roger Webb, who has been on the MIPT board for almost ten years, helped identify the perfect synergy that existed between the Institute's training programs and the academic offerings at Rose State College.
"It's a great opportunity for us," Cid said. "Institutions like MIPT need the support and collaboration of forward-thinking, action-oriented institutions like Rose State. I think it's a great combination. I think we are going to do great things together."
About Rose State College:
Rose State College offered its first classes on September 21, 1970. As a public, open admissions, associate degree granting institution, Rose State College provides higher education preparation for lifelong learning through programs and services designed to serve a diverse community. The college is located just minutes away from downtown Oklahoma City, and right off Interstate 40 and Hudiburg Drive. The campus includes twenty-five buildings on approximately 120 acres.
__title__ Rose State College]