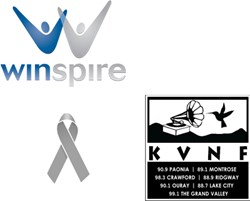 "We are now able to offer exciting vacation packages to our listeners without all the headache and hassle. I look forward to including Winspire Experiences in next year's auction!" -Amber McDaniel
Paonia, CO (PRWEB) December 23, 2013
The fundraiser took place between December 2-5th as an On-Air radio auction for KVNF Public Radio. The Holiday Auction has happened at KVNF for the past 32 years and is an annual event. This year they implemented online and mobile bidding. Listeners warmly welcomed the change, as they were able to bid online without having to be glued to their radio. The result was a total of $18,838 raised to support general operating expenses at the radio station.
Winspire partnered with the KVNF to provide five exclusive travel packages, one of which was sold for $3,200. The sold package was a [Wine Experience] which included airfare and a hotel stay in Napa Valley and features a hot air balloon ride, wine tastings and a chauffer between wineries.
"I am excited to hear from the winning bidder after they go on their Winspire Experience," says Underwriting Director Amber McDaniel, "We are now able to offer exciting vacation packages to our listeners without all the headache and hassle. I look forward to including Winspire Experiences in next year's auction!"
About KVNF Community Radio
KVNF Public Radio has been serving the western slope of Colorado since 1979 with news programs from National Public Radio, alternative news programming, local news and current affairs and an eclectic mix of musical genres with an emphasis on independent recording artists. It is the mission of Mountain-Grown Community Radio KVNF to participate in and reflect the diversity of its community by presenting a program service which addresses the community's education, information, cultural, and entertainment needs. For more, visit: http://www.kvnf.org.
About Winspire
Winspire provides unique once-in-a-lifetime travel Experiences for nonprofits to use in benefit auctions or charity fundraisers. This increasingly popular fundraising tool allows organizations to place exclusive travel packages in their fundraisers without any upfront cost. Since organizations purchase only those packages they sell, Winspire Experiences can be used with no risk at live auctions, silent auctions, raffles and any number of fundraising events.
Since 2008, Winspire has been involved in more that 25,000 events and helped raise over $30 million for charity with these experiences. More that 55,000 satisfied winning bidders have purchased and enjoyed a Winspire package, which include such Experiences as award shows, major sporting events, VIP access, family vacations, international trips, cruises and hundreds more. Winspire fulfills each and every package for the winning bidders, booking each Experience down to every last detail. For more information, please visit http://www.winspireme.com.