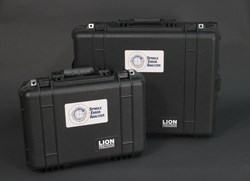 St. Paul, Minn (PRWEB) December 26, 2013
Equipment for Lion Precision's Spindle Error Analyzer (SEA) has traditionally come in a large, wheeled case weighing over 60 pounds. Because some users travel with the system to make machine tool spindle measurements at other plants, there have been requests for more compact, even "carry-on sized" cases. "Lion Precision's purpose is to work with customers to provide 'optimized' sensing solutions, so we got to work to optimize the carrying cases," says company president, Don Martin.
Users of the SEA system now have the option of two smaller cases rather than one large one. The lighter cases are easier to transport, store, and take aboard an airplane. The larger of the two cases still has wheels so the cases can be stacked and easily rolled to their next destination.
The SEA system helps engineers, designers, and machine tool operators and maintenance personnel measure and qualify machine tool spindles. Spindles with error motions which are too high produce parts with errors in feature location, roundness, and surface finish.
In 1958, Lion Precision was the first company to provide capacitive noncontact displacement sensors to industry. The company has expanded its product offering to include eddy-current displacement sensors and some application specific sensors for the machine tool, packaging and PCB industries. Lion Precision is focused on assisting users in sensor implementation by providing technical knowledge resources, expert guidance and optimized systems including custom designs.
For more information, contact Lion Precision:
Lion Precision
563 Shoreview Park Road
St. Paul, MN 55126 USA
651-484-6544
http://www.lionprecision.com
info(at)lionprecision(dot)com