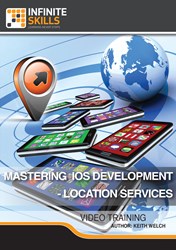 Learn Mastering iOS Development - Location Services at Your Own Pace
(PRWEB) December 20, 2013
Software training firm Infinite Skills Inc. this week introduced its "Mastering iOS Development - Location Services" an advanced course providing focused instruction on using the frameworks offered by Apple to support location services in iOS app development.
Geo-mapping features are increasing in importance in app development, as app genres from social networking to mapping and commerce make use of location information in providing services for the end user. Apple provides various APIs allowing developers options for including various degrees of location services in app development.
Infinite Skills' "Mastering iOS Development - Location Services" provides an introduction to these APIs, explores their various features and options and provides guided examples for implementation.
Mastering iOS Development - Location Services Video Tutorial - Streaming
Course author Keith Welch has spent more than 30 years working in the software industry, with 10 years working in .NET technologies, and the last 10 years focusing on mobile development. His many proficiencies include iOS, Android, Windows Mobile, ASP.NET, and more. Welch currently specializes in mobile developer tools, development consulting, and independent app development.
Following an overview of information services, exploring the basic options for mapping locations, Welch starts with the basics of creating an app that can map user location and use the map display.
From there, Welch demonstrates how to include features for accessing current location and directions, including turn-by-turn directions, distance calculation, and how to switch from road to satellite views.
The course closes with a tutorial exploring integrating location services with other features, using the example of the Reminders feature to notify users when they are in the area of services such as hotels, restaurants, and stores.
"The use of location and mapping in mobile apps is becoming more and more prevalent," Welch explains. "The app might be a social app to find friends, or commerce to locate hotels or restaurants or stores, or it could simply provide directions in mapping services."
"iOS provides location APIs, frameworks for including these services, and we'll review those options and demonstrate them and the available features."
Free demo videos and a full list of course contents can be found on the Mastering iOS Development - Location Services page of the Infinite Skills website:
http://www.infiniteskills.com/training/mastering-ios-development-location-services.html.
Infinite Skills offers its Mastering iOS Development - Location Services Training Video as a direct download from the company website at a retail price of $24.95. Though the compatibility of programs varies, all Infinite Skills titles and formats are compatible with both Mac and Windows operating systems, and shipping is available around the globe. Additionally, Infinite Skills tutorials are supported by project files which correspond to examples in the videos.
About Infinite Skills Inc.
A leader in the field of software training, Infinite Skills designs its courses on a task-oriented model, teaching complex skills by providing hands-on examples and guiding users as they carry out essential functions. Infinite Skills offers a wide range of software titles available as DVDs, digital downloads, and in iPad editions. Infinite Skills now offers a subscription service, providing access to all its training content for a monthly fee, keeping with company's aim of delivering professional training to customers anywhere they want to learn.