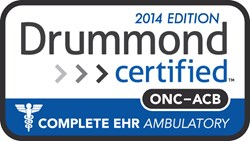 It is with great pride that I announce the 2014 EHR certification of SammyEHR by Drummond Group. Our business model focuses on small to medium sized practices where we can give Doctors the personal service and guidance they need.
Oceanside, New York (PRWEB) December 22, 2013
"It is with great pride that I announce the 2014 EHR certification of SammyEHR by Drummond Group. Our business model focuses on small to medium sized practices where we can give Doctors the personal service and guidance they need in order to make it through their day and perform all of the requirements of meaningful use. At the same time, we all realize that a Doctor's office is still a business. The software they use needs to work in such a way that the Doctor has time for both being a Doctor and remaining in compliance. As one of the very few family owned businesses in this market, we always strive to be loyal to our existing clients and appreciate their loyalty to us. Bravo to my staff for their hard work and achieving this certification," says Ken Katz, President, ICS Software, Ltd.
Drummond Group's ONC-ACB certification program certifies that EHRs meet the meaningful use criteria for either eligible provider or hospital technology. In turn, healthcare providers using the EHR systems of certified vendors are qualified to receive federal stimulus monies upon demonstrating meaningful use of the technology – a key component of the federal government's push to improve clinical care delivery through the adoption and effective use of EHRs by U.S. healthcare providers.
SammyEHR v6.1, which met the requirements for Complete EHR Certification is comprised of many features, both mandated by the certification and developed by our company that enable small to medium size practices function at a very high level to ensure patient satisfaction and stable business operations.
"Leveraging information technology for healthcare initiatives provides the opportunity to deliver a high-level quality of care and efficiency which essentially benefits and enhances the overall patient experience," says Rik Drummond, CEO of the Drummond Group Inc. "We have been testing software for more than a decade and will continue to provide our extensive experience testing and certifying complex systems for multiple industries, as well as ensuring interoperability and security remain key components in the growing healthcare industry."
This Complete EHR is 2014 Edition compliant and has been certified by an ONC-ACB in accordance with the applicable certification criteria adopted by the Secretary of the U.S. Department of Health and Human Services. This certification does not represent an endorsement by the U.S. Department of Health and Human Services or guarantee the receipt of incentive payments.
ICS Software, Ltd.'s SammyEHR v6.1 program was certified on December 19, 2013. The criteria certified includes 170.314(a)(1‐15); 170.314(b)(1‐5, 7); 170.314(c)(1‐3); 170.314(d)(1‐8); 170.314(e)(1‐3); 170.314(f)(1‐3) and 170.314(g)(2‐4). SammyEHR v6.1's certification ID number is 12192013-2382-5. The Clinical Quality Measures tested include CMS050v2; CMS068v3; CMS069v2; CMS123v2; CMS127v2; CMS138v2; CMS139v2; CMS156v2; CMS165v2. Additional software used includes NewCropRx and Updox Direct 2014.
SammyEHR v6.1 is a Complete ARRA certified system that is available in either a client/server environment hosted in the office of the client, or a SAAS model of the same system hosted by our company at our datacenter.
Client/server Model Cost: Clients purchase the software and pay an ongoing monthly support fee for services. Clients may provide their own hardware subject to conformity to our recommended hardware specifications published on our website. Clients in our local service area may obtain the necessary hardware, installation, wiring, training and ongoing support from our technical support department.
SAAS Model Cost: Clients pay a fixed monthly fee to use the software and services. Clients must maintain our recommended VPN connections to the datacenter (details on our website), and are not required to purchase any hardware from us. Training is included in the monthly cost for up to three months from installation of the software. Additional training is available.
This 2014 ARRA certified product-version may require one-time costs to establish interfaces for (each separately) transmission to immunization registries, transmission to cancer registries, transmission to public health agencies, transmission to and from laboratories, integration with other ONC certified systems and certain new/changed features. In addition, this certified product-version may require monthly or per use costs for services relating to our secure messaging, services that use the DIRECT protocol, electronic prescribing and certain new/changed features.
*A certification that is issued to an integrated bundle of EHR Modules shall be treated the same as a certification issued to a Complete EHR except that it must also indicate each EHR Module that comprises the bundle;
*A certification issued to a Complete EHR or EHR Module based on applicable certification criteria adopted by the ONC at subpart C of this part must be separate and distinct from any other certification(s) based on other criteria or requirements.
About ICS Software, Ltd.
We are a family owned company that specializes in offering electronic health records software to small to medium size businesses. Many offices who wish to stay on top of the current trends and requirements are looking for a reliable and affordable solution for their offices.
We have been serving the medical community since 1986 under the same ownership. Our motto has always been to make sure our current clients are ahead of the curve and that Sammy makes it as easy as possible for practices to run as efficiently as possible.
All of our programs contain the best features available. We write and maintain the programs so we control the evolution, support and updating that is necessary. This means that stability, compatibility and updating are not issues that we allow our clients to be concerned with. We offer you this technology today.
About Drummond Group Inc.
Drummond Group Inc. is a global software test and certification lab that serves a wide range of vertical industries. In healthcare, Drummond Group tests and certifies Controlled Substance Ordering Systems (CSOS), Electronic Prescription of Controlled Substances (EPCS) software and processes, and Electronic Health Records (EHRs) – designating the trusted test lab as the only third-party certifier of all three initiatives designed to move the industry toward a digital future. Founded in 1999, and accredited for the Office of the National Coordinator HIT Certification Program as an Authorized Certification Body (ACB) and an Accredited Test Lab (ATL), Drummond Group continues to build upon its deep experience and expertise necessary to deliver reliable and cost-effective services. For more information, please visit http://www.drummondgroup.com or email DGI(at)drummondgroup(dot)com.