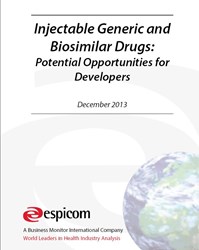 Rockville, MD (PRWEB) December 31, 2013
Injectable Generic and Biosimilar Drugs - Potential Opportunities for Developers 2013
The market for injectable generics has been through a period of consolidation over the last few years as the leading companies have increased their presence through acquisition. The major players include Hospira, Sandoz (Novartis), Hikma Pharmaceuticals, Fresenius Kabi and Teva Pharmaceutical Industries. But interest in generic injectables has not been limited to established generic companies, as pharmaceutical majors like Pfizer have also become attracted to the market.
This is hardly surprising with a global injectables market in the region of US$144 billion. While the lion's share remains with the innovative industry for the time being, the generic injectables market is worth around US$12.2 billion, and numerous high value injectable products will face patent expiry in major markets over the next decade. But many of the big sellers are biological products, and biosimilar approvals will only be possible for a few companies. Gaining regulatory approval in developed markets will be far more complex for biosimilars than for chemical generics and will involve costly clinical trials. To date, only a handful of companies have gained regulatory approval for biosimilars in Europe, and the US is likely to remain elusive to all but a select few. Among these, as the only US-based company with approval for biosimilars in the EU, Hospira is well positioned to take advantage of the potential US market.
To order this report:
Injectable Generic and Biosimilar Drugs - Potential Opportunities for Developers 2013
Contact: Shauna
800.298.5699
Customerservice(at)marketresearch(dot)com
Espicom Healthcare Intelligence
Espicom Business Intelligence – a Business Monitor International company - is a leading provider of specialist pharmaceutical and medical device market information. Based in the UK and with 30 years of experience, the company produces a broad range of healthcare business and therapy titles. Reports and services span the industry from comprehensive newsletters in key areas such as cancer drugs, generics and drug delivery to in-depth market, company and therapy reports.
About MarketResearch.com
MarketResearch.com is the leading provider of global market intelligence products and services. With research reports from more than 720 top consulting and advisory firms, MarketResearch.com offers instant online access to the world's most extensive database of expert insights on global industries, companies, products, and trends. Moreover, MarketResearch.com's Research Specialists have in-depth knowledge of the publishers and the various types of reports in their respective industries and are ready to provide research assistance.
Follow us on Facebook: http://www.facebook.com/marketresearchdotcom.
Follow us on Twitter: http://www.twitter.com/marketresearch_.
Injectable Generic and Biosimilar Drugs - Potential Opportunities for Developers 2013 - Table of Contents:
FOREWORD
EXECUTIVE SUMMARY
INJECTABLE DRUGS MARKET
CANCER
HORMONAL THERAPIES
CHEMOTHERAPY
MONOCLONAL ANTIBODIES
SUPPORTIVE THERAPIES
HAEMATOLOGY
IMMUNOLOGY
MULTIPLE SCLEROSIS
RHEUMATOID ARTHRITIS
INFECTION
MAJOR COMPETITORS
ACTAVIS
AKORN
AMERICAN REGENT
AMPHASTAR PHARMACEUTICALS
APOTEX
AUROBINDO PHARMA
CLARIS LIFESCIENCES
DR REDDY'S LABORATORIES
FRESENIUS KABI
HIKMA PHARMACEUTICALS
HOSPIRA
MYLAN
SAGENT PHARMACEUTICALS
SANDOZ
STRIDES ARCOLAB
SUN PHARMA
TEVA PHARMACEUTICAL INDUSTRIES
WOCKHARDT