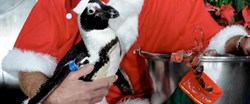 "As innovators in the zoo world, it is only natural for Audubon to take the lead with this fresh and newly emerging format," said President/CEO Ron Forman
New Orleans, LA (PRWEB) December 23, 2013
The Real Wild Animals of New Orleans would like to wish all a happy holiday with a special video of Santa visiting the penguins at Audubon Aquarium. Season 2 of the popular Audubon Nature Institute web series premieres January 1, 2014 with all new webisodes at http://www.RealWildAnimals.com.
The show follows host Chriss Knight as she guides viewers behind-the-scenes of Audubon Zoo, Aquarium, and Butterfly Garden and Insectarium. The web series gives viewers a backstage pass to meet the beloved animals and dedicated staff of Audubon Nature Institute.
Season 2 opens with an up-close-and-personal look at Audubon Zoo's western lowland gorillas. Viewers will learn how trainers engage and enrich the lives of these critically endangered animals and how Casey the silverback gorilla has emotionally connected with the animal staff. Later in the season, host Chriss Knight helps Aquarium staff feed the sharks, dives in the Aquarium tunnel, learns how to make a meal fit for a king out of bugs, takes a tour of the new elephant barn, and sits-in on an Orangutan physical at Audubon's Animal Hospital.
From animal keepers to exhibit designers, viewers will get a peek behind the curtain to see the planning and problem-solving that take place out of the public's view at Audubon attractions. The bi-weekly series will utilize vivid, skillfully shot video to entertain, educate and inform viewers and visitors about the popular New Orleans attractions.
"As innovators in the zoo world, it is only natural for Audubon to take the lead with this fresh and newly emerging format," said President/CEO Ron Forman. "With online video accounting for half of consumer internet traffic in 2012, we are excited to pioneer new experiences for our visitors and celebrate the wonders of nature with audiences throughout the world."
Season 2 of The Real Wild Animals of New Orleans premieres on Wednesday, January 1, 2014 on http://www.realwildanimals.com or http://www.auduboninstitute.org with new websisodes airing bi-weekly.