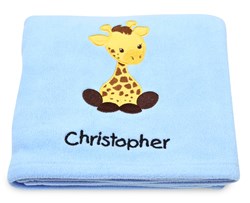 New Berlin, WI (PRWEB) December 20, 2013
Aside from Feb. 29, which has a distinctly unfair advantage, Dec. 25 is the least common birth date there is, according to data published by the New York Times. It happens that the whole month is rather uncommon too, and so for everyone with late-December birthdays, Christmas can sometimes be a little less-than-merry. Friends are preoccupied with the holiday, and children born around the 25th get "combined presents" – one present for both occasions. Selfishness is never encouraged, but everyone, especially children, likes to enjoy a little attention on their special day.
This year, leading online party supplies retailer BirthdayExpress.com is all set up to help make the season better for those with holiday birthdays. The company's brand new line of boys' and girls' appliqued fleece blankets make unique and memorable birthday gifts for little ones this December.
"As a resource for moms, BirthdayExpress.com loves getting into the gift-giving spirit," said Dana Palzkill, vice president of Merchandising for BirthdayExpress.com. "We know that when birthdays and holiday collide the season can get even more stressful. For new parents wanting to make an upcoming birthday something really special, these gifts are a perfect fit."
Each blanket retails for $21 and is able to be individually tailored to the recipient with an embroidered name or message. This exclusive collection of gifts also corresponds and coordinates with some of BirthdayExpress.com's best-selling exclusive birthday themes:

Pink Mod Monkey
Giraffe
Lil' Prince
Construction Pals
Look Who's 1 Pink
Playful Puppy
In addition, BirthdayExpress.com offers party packs with everything mom needs for a birthday party in many popular themes, including Mario Kart and Dr. Seuss, for a birthday celebration to ensure the birthday child is honored aside from the holiday. Choose from favorite themes and personalization opportunities for boys and girls.
"We all know someone who has a late December birthday," said Palzkill. "Birthday celebrations hold some of the best memories from childhood. Let's make sure the special person's birthday is not overshadowed by the holidays and they can enjoy in a celebration dedicated to them. BirthdayExpress.com is here to make both occasions stress-free and unforgettable."
# # #
About BirthdayExpress.com
BirthdayExpress.com is the 24-hour destination for kids' birthday party supplies and planning. The online store offers everything needed to celebrate birthdays – except the kids and the cake – and offers unique themes for birthdays, specifically for kids ages 1 to 10. BirthdayExpress.com offers a vast selection of licensed and exclusive themes, and ships its products direct to consumers in nearly 35 countries worldwide. Get connected to Birthday Express via Facebook (https://www.facebook.com/CelebrateExpress), Twitter (@BirthdayExpress), YouTube (http://www.youtube.com/celebrateexpress), and Google+ (https://plus.google.com/+birthdayexpress).
About BUYSEASONS, Inc.
Founded in 1999, BUYSEASONS, Inc. is the leading online retailer of costumes, accessories, party décor and supplies for year-round celebrations and entertaining. BUYSEASONS, Inc. owns and operates BuyCostumes.com and the Celebrate Express family of websites: BirthdayExpress.com, 1stWishes.com, and CostumeExpress.com, which offers one of the largest assortments of kid's costumes and birthday party supplies at any single online location. In addition, BUYSEASONS, Inc. operates a private-label drop ship program for other internet retail partners. BUYSEASONS, Inc. is a subsidiary of Liberty Interactive.