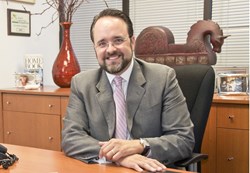 Domestic Buyers continue to make the move to purchase homes in South Florida!
Miami, FL (PRWEB) December 23, 2013
Predictions for the New Year include more real estate transactions and increased activity by domestic buyers. How active they can be in the marketplace depends entirely on job and wage growth, and how willing lenders are to finance their purchases.
"With the increase of the interest rates in long term financing, more investors are attracted to invest in the Mortgage Industry," says Emilio J. Cardenal, CEO of Interinvestments Realty. "The current housing market is changing, before all home purchases were done by investors and foreign buyers closing all cash deals. Now, the domestic buyer is reappearing seeking sources to finance their principal residences."
"We are on the verge of upcoming changes to the lending industry," says Saul Blanco, partner of Residential Finance Corporation, a thirty-year veteran in the lending industry.
"The lending industry has been totally revamped in the last four years, rather than creating additional sources of financing, extremely risky programs had been eliminated to ensure that financing and a strong secondary market through entities like Fannie Mae, Freddy Mac and FHA will continue to operate in a healthy fashion," continues Blanco. "It's no secret that those agencies have had serious financial problems in recent times that go back to our economic crisis. We have been in danger to having a financing handled completely by the private sector, which would have made availability to the average buyer less attainable."
"FHA financing continues to provide to the buyer the ability to acquire a property with a low down-payment. The maximum amount that can be financed through FHA in both Miami-Dade and Broward counties remains at $423,750," explains Blanco. "This amount really meets the current financing needs of the average area buyer. FHA takes a 3.5% down-payment, plus approximately 5% for closing costs and escrow pre-payment."
"FHA loans are simply loans offered by participant banks and lending institutions that are insured by the government," continues Blanco. "In the current market, even though the government has tightened lending guidelines, thus making financing more difficult, private institutions that have ample capital resources are expected to enter the mortgage market this year, to fill the gaps created by necessary government tightening. In this situation the government instead of creating new sources directly, has promoted the entry of these new lenders. We expect to have some of these alternatives finance sources as early as the first quarter of the upcoming year."
If you want more information about how to buy a new-construction or resale property, be interviewed and fully qualified by our preferred lenders, or know more about the possibility of buying your own home by using the financing programs available in the current market, please contact our Corporate Office at the telephone number that appears in our contact information, next to this communication.