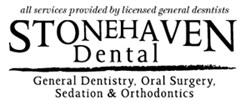 Salt Lake City, Utah (PRWEB) December 20, 2013
Anxiety upon visiting dental offices in Utah is very common. For many it can be rather disconcerting to have a perfect stranger put metal tools inside of one's mouth. Stonehaven Dental, in their vast commitment to the desires and needs of their patients, and have mastered the art of sedation techniques in an effort to be more conscientious of anxiety. Sedation dentistry has proven to be highly effective in combating any worries or anxiety that individuals might have concerning procedures. Imagine going to sleep and waking up peacefully with the procedure fully completed. A gift of a peace of mind is the beauty of sedation dentistry and a significant reason why many dentists are turning to it for their dental procedures.
Sedation dentistry eradicates the anxiety and nerves of those treated with a dental procedure. Patients will be able to go to sleep and awake with their procedure having been expertly performed to completion. Stonehaven offers a variety of options as well including I.V. sedation, oral sedation, or nitrous oxide. This allows the client to choose an option that best suits their financial and personal needs while eliminating the cause for procedural anxiety.
By calming patients using sedation techniques, Stonehaven Dental simply reaffirms their care and commitment to their patients. Eliminating the need for fear is a service that isn't required, but increasingly necessary. Other dentists in Salt Lake City are following suit, confirming the tendency Stonehaven has to be trendsetters in new ways of improving patients' overall dental experience.
With calm nerves and an easy mind, patients will be able to relax and even enjoy their dental procedure from the Stonehaven Dental offices in Utah. The dentists on the staff there are fully qualified, professional, and very amicable. These three traits are essential to a truly effective health care provider, and traits that Stonehaven holds in high regard. From utilizing new patient forms online to offering top of the line sedation dentistry, Stonehaven is not only the friendly neighborhood dentist, but also a pioneer in making the patients' dental experience that much more comfortable. For more information about their sedation services, or to schedule an appointment, visit their website at http://stonehavendental.com/.