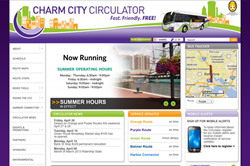 Baltimore, MD (PRWEB) December 22, 2013
Charm City Circulator has launched a new website that is just as clean and new as the innovative transportation service they have launched for Baltimore City. The new website developed by nationally renowned technology firm,The Canton Group, The Charm City Circulator will offer a subscription service that enables riders to obtain alerts and shuttle status update on their mobile devices and provides links to social media outlets such as Facebook, FourSquare, and Twitter.
The feature-rich site allows visitors to easily locate route information to include schedules, delays, and local attractions attached to each route. The Canton Group also developed a companion iOS and Android mobile app that ties into the website functionality and provides the mobile audience the ability to view route information, the arrival and departure times in real-time, as well as points of interest the coincide with route information
About Charm City Circulator:
The backbone of any great city is transportation. Charm City Circulator services residents, downtown employees, students and tourists and anyone else who wishes to ride. The shuttle is intended to reduce congestion and greenhouse gas pollution by offering a convenient, reliable and eco-friendly form of public transportation.
The CCC consists of four separate routes—the Green Route which runs from City Hall to Fells Point to Johns Hopkins, the Purple Route which runs from Penn Station to Federal Hill, the Orange Route which runs from Hollins Market to Harbor East and the Banner Route which runs from the Inner Harbor to Fort McHenry.
About The Canton Group:
The Canton Group is a nationally renowned and award winning technology firm based in Baltimore, MD. Leveraging flexible open source software applications, proven project management processes, user-centric design; The Canton Group offers a single-source-solution to attaining success through technology for higher education, associations, government agencies, non-profits, and businesses of all sizes.