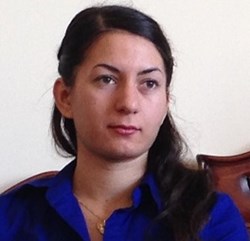 Opportunities to Make Change
Indianapolis, IN (PRWEB) December 23, 2013
Bethlehem University student shares her joy this Christmas.
It's easy for Americans to get nostalgic over Bing Crosby's recording of "I'll Be Home for Christmas". But what if "home" were in Bethlehem… Palestine. It is for Dina Yatim, a Franciscan Foundation for the Holy Land (FFHL) scholarship recipient.
Yatim, a 21-year-old student from Beit-Sahour (a district of Bethlehem), recently spoke with representatives from the FFHL. Christmas is a "festive season, full of Christmas lights and decorations, ceremonies with marching bands, orchestras, and choirs," she said. A festive season indeed.
Ms. Yatim, who is studying Business Administration at Bethlehem University, is a senior who hopes to garner a second scholarship so she can attend graduate school to obtain an MBA. Her first scholarship was earned from the FFHL University Scholarship Program, a program that to-date has given out over $4.2 million in scholarships to deserving Christian students in the Holy Land, according to the ffhl.org website; a figure confirmed by FFHL President, Fr. Peter Vasko, OFM.
A recipient of a four-year scholarship, we asked Ms. Yatim what she was grateful for this Christmas. She said it was hard to be grateful for just one thing, but when pressed she smiled and said, "I am most grateful for my family. I am grateful that they are all healthy and well, and are here to celebrate this wonderful time together."
Yatim said she looks forward to attending the upcoming Christmas Masses in the Churches of Bethlehem District with her family "but especially the Mass in BU [Bethlehem University] chapel". After an exhausting final exam schedule, what student wouldn't?
Today, Christians like Dina only constitute 10% of Bethlehem's population, according to Fr. Peter. His numbers were confirmed by the Custos of the Holy Land, Fr. Pierbattista Pizzaballa, OFM. The number of Christians living in Bethlehem, the place where the first Christmas took place, was once as high as 80%. Those numbers have fallen sharply since the mid-20th century.
For some 30,000 Arab Christians who do reside in Palestine, however, Christmas is a time of particular celebration in what is otherwise a difficult climate in which to live. Christians are often discriminated against because they are a minority in the Holy Land.
That fact won't dampen Dina's spirit.
"Dina is a very beautiful soul," said a representative from the Franciscan Foundation who wished to remain anonymous. "You can see the glimmer of hope and determination in her eyes. I think it might be what some people refer to as the spirit of Christmas."
Hope is something much needed by Christians in the Holy Land who are experiencing high unemployment numbers in Bethlehem and areas outside Jerusalem. Some recent estimates, according to the Custody of the Holy Land, are as high as 65%.
"It is not an easy time for Christians in the Holy Land," said Fr. Peter. "We're doing all we can to help stem the tide of Christians leaving the land of Christ's birth."
When asked what she wanted this Christmas for herself and other young Christians living in the Holy Land, Yatim petitioned Christians in the United States. "Intelligence and talents around here go undiscovered and undeveloped because not many people can afford to create their own opportunities. So, please, be our opportunities to make change."
There is little doubt that this young woman will be a force of change wherever she goes.
For more information about the Franciscan Foundation for the Holy Land, an ecumenical non-profit organization run under the auspices of the Custody of the Holy Land, visit http://www.ffhl.org where many other stories like Dina's can be found.