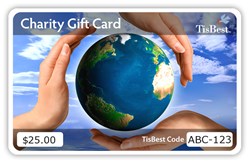 We're honored to be able to help TisBest achieve their goals.
Seattle, WA (PRWEB) December 20, 2013
TisBest Philanthropy, the leading provider of charity gift cards, announced today it has received a grant from the Conductor Foundation to assist TisBest in increasing its online visibility through organic search. The grant provides access to their leading search platform, Conductor Searchlight which is used by over 5000 brands globally.
"We are grateful for this generous grant, and for the recognition of our work in the charity gift card arena," said Jon Siegel, TisBest Executive Director. "Everybody loves the idea of a donation gift card. Searchlight will help us expose the concept to even more individuals and businesses online, which will create even greater financial support for charitable organizations of all kinds."
With the help of the Conductor Foundation, TisBest now has access to the world's leading search platform, support and resources. Searchlight is enabling TisBest to expand from basic performance tracking of limited keywords to state-of-the-art, enterprise-grade performance monitoring of the entire search landscape, intelligence into search trends, and the ability to view page-level analytics data for search programs.
"In addition to offering a meaningful alternative to gifts of 'stuff,' our mission is to increase the visibility of great causes. Search plays an important role in that strategy, and we're excited that we'll have access to this sophisticated technology," said Chad Edward, TisBest's Director of Creative Services.
"The Conductor Foundation is a unique way in which Conductor and our customers can make the world a better place through technology," said Seth Besmertnik, Conductor CEO. "We're honored to be able to help TisBest achieve their goals through access to leading technology, resources and support."
About Conductor
Conductor is the global leader in search technology. More than 5,000 brands and enterprise marketers use its cloud-based platform, Conductor Searchlight™ to measure, improve and manage their natural search efforts to stay ahead of the competition, increase site traffic and boost revenues. The powerful, highly-scalable platform processes massive amounts of data quickly, giving users real-time information for better, more informed decision making. The platform enables users to identify new ways to increase share-of-search that will propel their businesses forward. Offering the most robust performance reporting and measurement tools available in the industry, Conductor arms marketers with the intelligence needed to tie SEO success to business objectives and demonstrate the value of SEO across the organization. One of New York City's fastest growing and most-admired technology companies, Conductor is routinely recognized for excellence in business and corporate culture. To learn more, go to http://www.conductor.com or follow Conductor on Twitter @conductor.
About The Conductor Foundation
The Conductor Foundation's mission is to provide the knowledge, skills and tools that empower charitable, nonprofit organizations to improve their online search visibility to raise awareness of their mission, increase donations and inspire volunteerism. The Conductor Foundation is made possible with the support of loyal Conductor customers. For more information, visit http://www.conductorfoundation.org.
About TisBest Philanthropy
TisBest Philanthropy is a 501(c)(3) nonprofit organization dedicated to fostering the growth of non-material gift-giving. TisBest created charity gift cards in 2007. Charity gift cards work like conventional gift cards, but with one important exception: the recipient of a charity gift card "spends" it by choosing a charity to receive the funds.
With a TisBest Charity Gift Card, you make the donation and your recipient decides how to spend the donation, choosing from TisBest's 300+ charity partners. TisBest cards are customizable at no additional cost, and have become increasingly popular as consumer and business gifts. Learn more at http://www.tisbest.org.