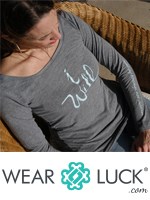 "Women are so excited to finally have a reason to make a New Year's Resolution! I look forward to hearing about all the exercise, diet and healthy lifestyle goals that are met in 2014!" - Michelle Hastings, Ringleader of Wear Luck.
Little Rock, AR (PRWEB) December 23, 2013
Losing weight is the most popular resolution, however it is also the one that is most commonly forgotten. Pinning a note to your shirt, posting it on your frig and putting it on your calendar just does not work. Every year, frustration sets in by February.
What if there was a way to have a visual reminder when the waitress asks, "what will you have" and the cheeseburger and fries are screaming "pick me". This is where Wear Luck steps in with a new line of self-help shirts. The front says, "I will" and the sleeve is printed with a 2014 New Year's Resolution reminding the wearer make a healthy food choice. Hooray that is one more step toward better health.
Wear Luck's unique clothing with a purpose is available online at http://www.wearluck.com.
Thanks & Good Luck!
Michelle