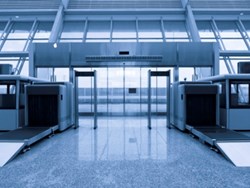 The detectors and other products for FBOs provide flexibility to meet the demand of a secure screening process when the need arises.
New York, New York (PRWEB) December 23, 2013
Global Elite Group (GEG) is meeting the fixed base operator's (FBOs) demand for support services and security for charter aircraft operators who fly in and out of over 5,000 U.S. airports. As this segment of the industry grows, private airways are relying on the FBO to provide security and other amenities to travelers with greater efficiency and quality than that found in the commercial airline experience. "The FBO has a tremendous role in the success of getting a private charter traveler to their next destination—meeting both the airline's level of quality and the expectation of the customer. GEG provides advanced security services which compliment the FBO's efforts to provide a seamless travel experience," stated William McGuire, President and CEO of Global Elite Group.
Global Elite Group provides security services to corporations and airlines throughout the world incorporating these same best practices, for FBOs that include security management services, canine explosives detection and portable screening technology while following TSA regulations. "FBOs have to meet the challenge of getting their clients to their destinations safely and securely. Our private charter screenings provide a quicker security screening process while also being very discrete. Increasing these services has been one of the main business focuses for GEG for over a decade," explained Andrew Compas, Business Development Northeast Region for GEG. Most recently, GEG rolled out a leasing and purchasing program for its metal detectors. "The detectors and other products for FBOs provide flexibility to meet the demand of a secure screening process when the need arises," Compas stated.
Since its inception, GEG has offered aviation services including route feasibility studies, airport and terminal suitability assessments, liaison for local and national aviation authorities, coordination of activity with alliance partners, human resource support and concierge services. "When GEG first started providing these services demand for them was steady until the last several years where the market has picked up considerably," McGuire commented. Some of the demand can be traced to both a regulatory origin and the need to provide the traveler with an overall exceptional experience in customer service that starts before they arrive at the ramp of the aircraft.
The dependence on the FBO has greatly increased at regional airports offering access to regions just outside of large hubs. Travelers with fixed schedules who cannot be accommodated at a commercial airport and convenience they offer, both play a role in the growing popularity. There are also times of the year where demand is very high for sports teams to travel when schedules are tight between games. "Sports teams have realized the benefits of traveling through charter airways. Mainly because they can determine their own flight times but also it is much easier to move a large group of people from one location to the next when the plane is waiting and the services including security come to you," explained Bryan Davis, Vice President of Sales & Marketing.
About Global Elite Group: With offices located throughout the world, the company provides security and emergency management services for companies of all sizes and is known for its emergency contingency planning in all markets and its aviation security programs for over 28 airlines located in the U.S. and abroad. The company is always expanding services to compliment the security needs of individuals, companies, high profile travelers and events. The company is TSA certified to provide screenings to individuals and groups. Global Elite Group is a full-service event security management company with security details available for deployment to cover small venues to large-scale multi location events. Other services include risk assessments and asset protection.