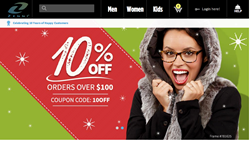 A win would honor our designers and developers who worked so hard to make the new website happen.
Novato, CA (PRWEB) December 23, 2013
Zenni Optical, the world's leading online optical retailer providing the most inexpensive, high-quality prescription eyewear available anywhere, has for the first time submitted an entry for a Webby Award in the Shopping Website category.
Zenni Optical Marketing Manager David Varnai said Zenni's Webby submission marks a recognition that Zenni's website delivers an outstanding, even award-worthy online shopping experience for customers of prescription eyeglasses, particularly since Zenni's revamped website was unveiled last month, coinciding with Zenni's 10th anniversary, to almost universal acclaim from customers.
"With sales spiking higher than ever since we launched the new website, and so many customer testimonials raving about the retooled website's beautiful, uncluttered design and streamlined, more user-friendly experience, we feel like we're ready for prime time," Varnai said. "A win would honor our designers and developers who worked so hard to make the new website happen. Our submission honors them and also our customers – whose feedback regarding changes to the website, much of which we implemented, was invaluable."
An appeal will be sent to Zenni customers via email, and over various social media platforms, encouraging them to vote for Zenni for the Webby People's Voice Award.
The Webby Awards were established in 1996, in the early years of the internet. They are presented by the International Academy of Digital Arts and Sciences, a 1,000-plus member body including such luminaries as Kevin Spacey, David Bowie and Arianna Huffington. Nominees will be announced in April and the awards ceremony will be held later in the spring.
About Zenni:
Northern California-based Zenni Optical, launched in 2003, is the leading online retailer of prescription eyewear. Using the most current optical materials and the most up-to-date manufacturing processes, our glasses are custom-made and come directly from our factory to you. With no middlemen, no retail-space overhead, and practically no advertising budget, we have realized our dream of providing the best value eyewear in the world.