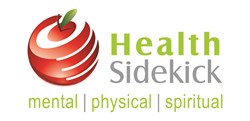 For example you can see in HSK that my morning meditation translated into me eating -120 calories less per day.
Laguna Beach, CA (PRWEB) January 08, 2014
How many calories is reading a book, meditating or praying worth? A free new website is telling its members just that. Health Side kick has two innovative patent-pending weight-loss equations that help their members collectively determine their progress. Members not only log what they are doing physically (food and exercise) but also what is considered to be mental and spiritual exercise.
Health Sidekick tells member how many calories their mental and spiritual activities are worth and then they use moving averages to calculate how many calories per day users can eat to lose weight which Health Sidekick finds can be much more accurate than what is used by most sites and trackers.
Health Sidekick takes a few more spins on the normal tracker and sites. While most sites and tracker use the Harris Benedict Equation (with or without TDEE), Mifflin-St Jeor equations or the Katch-McArdle formula, Health Sidekick uses their own patent-pending equation that uses moving averages to give users their caloric intake goal which they claim is much more accurate than what is currently used. It ranks foods, exercises mental and spiritual activity, days, weeks and just about everything else one does by how much they translate into weight loss.
Rob Luecke co-founder of Health Sidekick says, "The old equations may be causing people to gain weight because of their lack of accuracy. In regards to mental and spiritual exercises there have been several studies that show mental and spiritual programs have an impact on weight, we are just telling people how many calories they translated into."
Ever wonder what food translated into the best weight loss for you? Health Sidekick ranks them all and tells its members what is translating into the most weight loss personally for them. They feel they have a better equation to tell users how many calories they can eat and lose weight.
Discover them at http://www.healthsidekick.com